With just seven days before Tet, Ho Chi Minh City's leaders visited and gave presents to disadvantaged and poor people in and around Ho Chi Minh City on January 17.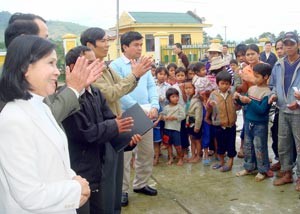 Vice Chairwoman of HCM City people Commitee Nguyen Thi Thu Ha ( first L ) visited and gave presents to disadvantaged and poor people in and around Ho Chi Minh City
A HCM City delegation, led by the chairman of HCM City People's Committee, Le Hoang Quan, visited and presented New Year gifts to Nhan Ai hospital, a drug and alcohol rehabilitation center, and Bo La jail in Binh Phuoc and Binh Duong provinces.
Mr Quan praised doctors who are dedicated, take care and treat hundreds of HIV/AIDS patients in Nhan Ai hospital.

He also much appreciated the dedication of staff who have been working many years to help drug addicts undergo treatment to begin new lives.
At Bo La jail, he met and gave encouragement to 93 prisoners who were granted a special reprieve for Tet.
The vice-Chairman of HCM City People's Committee, Nguyen Thanh Tai, visited and wished five poor Chinese households in district 8 a happy Tet and gave New Year presents, worth VND700,000 ($40) per each.
HCM City Youth Union held a meeting to exchange and give 200 presents to people with disabilities. The Union was supported by Phu Nhuan Jewelry Joint Stock Company and HCM City Young Business Association.
Saigontourist gave 60 presents to veterans who had worked in Long Khanh base against US and presented 50 gifts to poor workers in Long Khanh town, Dong Nai province.
HCM City Farmer Association offered 1,311 presents, a total value of VND260 million ($15,000), to poor households in thirteen districts in Ho Chi Minh City. They had previously given 2,000 color TVs to poor farmers and supported farmers' products and help them conduct business for New Year to the tune of VND2.7 billion ($155,000).
At the Dam Sen park, HCM City Communist Youth Union held a 'Home in Tet festival' program to offer presents to disadvantaged and children with disabilities.
Nguyen Van Dua, the Standing Vice Secretary of HCM City Party Committee, attended and gave presents, VND200,000 ($11.50) each, to children and workers at the martyrs' cemetery in HCM City.
Kien Giang Province People's Committee cooperated with RAAS to organize a program 'Kien Giang has one magnanimous heart.' The present Miss World Ksenia and 2007 Miss World Truong Tu Lam (Zang Ji Lin) hosted the program and collected more than VND178 billion ($1.2 million) to help poor people in Kien Giang Province.
On this Occasion, RAAS, Habitat for Humanity Vietnam Organization received campaign medals from the Prime Minister due to their significant contributions in Kien Giang Province.