A delegation led by Nguyen Van Dua, Vice Secretary of the HCMC Party Committee, on January 9 visited and offered gifts to families of soldiers assigned on the Truong Sa Islands.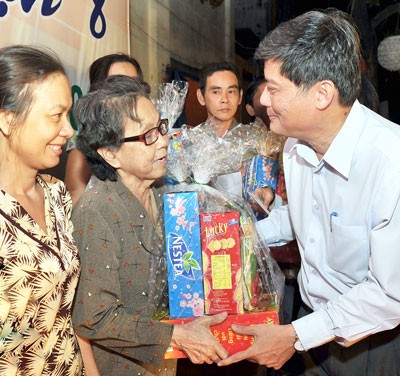 Nguyen Van Dua, Vice Secretary of the HCMC Party Committee (R) offered Tet gifts to the poor in District 8 in HCMC.
Mr. Dua expressed his admiration of a young wife, Nguyen Thi Nhat in Thu Duc District, who has great love, pride and faith in her husband, Lieutenant Nguyen Van Hung. The soldier has been defending Truong Sa archipelago for three consecutive years.

Mr. Dua also offered gifts and encouraged families of Dao Thi Lieu in District 9 and Hoang Thi Huong, whose husbands Lieutenants Pham Thai Dam and Phan Van Nghia, are on duty at DK1 frame house on the island.

Mr. Dua asked local authorities to create good conditions for soldiers' families to enjoy a warm and joyous Tet.

The Vice Secretary also gave Tet gifts worth VND2.2 million each to 5 poor households in Truong Thanh and Long Phuoc Wards in District 9, extended Tet greetings to the entire staff of Cho Ray Hospital in District 5 and scientists of the HCMC Union of Science and Technology.

He took part in the opening ceremony of a spring flower market at the Binh Dong pier in District 8 and offered Tet gifts to disadvantaged people there.

On the same day, Nguyen Van Ranh, a city Party Committee executive, visited and extended his greetings to the entire staff of Thong Nhat Hospital in Tan Binh District and to Vietnamese Heroic Mother Son Thi Ky in Binh Thanh District.

Additionally, the HCMC Women's Charity Association offered 200 presents to disadvantaged women in Districts 4 and 8, and 48 disabled children at Can Thanh Special School in Can Gio District on January 9. Each gift included sugar, milk, cake, instant noodles, vegetable oil and cash of VND100, 000. This year the association has mobilized sponsors to donate 1,500 Tet gifts worth VND393 million to the elderly, disabled children, poor patients and disadvantaged women in the city.

The Labor Union of Ho Chi Minh City, in cooperation with labor unions of industrial and processing zones in the city, handed over 888 bus tickets to workers who have not gone back home to the northern and central regions for several consecutive years.

Besides this, 1,500 Tet gifts were also given to workers. Hundreds of employees of the Tan Thuan Processing Park received bus fares and presents on the same day.

To date, labor unions of industrial and processing zones in the city have offered presents and bus fares to around 6,000 workers, amounting to more than VND5 billion (US$227,000).
The labor union of the Department of Labor, Invalids and Social Affairs has loaned VND1.7 billion to 481 disadvantaged employees, supported VND64 million to build three houses for poor workers and gave 19 Tet gifts to employees suffering from a fatal disease.

In related news, Da Nang City Charity Association handed over 200 presents to the disabled and poor patients on January 9.

Local authorities of the central highland province of Kon Tum supported 26 remote communes with VND5 million each, border posts with VND10 million each and offered 2,000 gifts to disadvantaged households in the province on occasion of Tet.