HCMC Party Committee leader Dinh La Thang paid Tet visits and extended greetings to Buddhist and Catholic dignitaries in the city on January 17.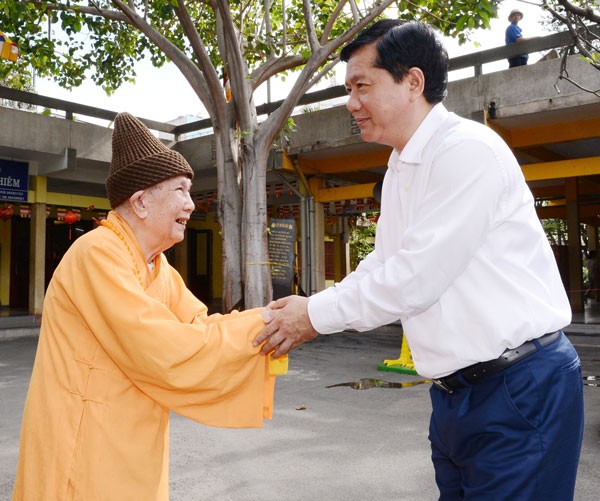 City Party chief Dinh La Thang (R) paying a Tet visit to monk Thich Duc Nghiep, deputy patriarch of the Patronage Council of the Vietnam Buddhist Shangha in HCMC on January 17 (Photo: SGGP)
Buddhist dignitaries include monks Thich Tri Quang, deputy patriarch and head of the HCMC Buddhist Sangha's Patronage Council and Managing Board; Thich Duc Nghiep, deputy patriarch of the Vietnam Buddhist Sangha (VBS)'s Patronage Council; Thich Thien Tam, deputy head of VBS Managing Board.

Catholic dignitaries comprise Priest Phan Khac Tu, standing vice president of the Committee for the Solidarity of Vietnamese Catholics and Cardinal Pham Minh Man.

Monk Thich Duc Nghiep expressed his gladness to see the country and city's development for the last years.

With the solidarity and determination of the municipal government, HCMC had overcome many difficulties and obstacles for economic recovery and development and social stability. Thanks to that, the city had been affordable for better caring citizens' life not only in HCMC but also those from other provinces and cities, he said.

City Party secretary Dinh La Thang expressed his sentiment and consideration for positive and effective contributions by the Vietnam Buddhist Sangha that has encouraged and guided Buddhist monks, nuns and followers to participate in many patriotic emulation movements and other activities benefiting the country and the religion as well as contributing to the increasingly good society and sustainable development of the country and city.
He wished the dignitaries as well as religious communities to be successful in the New Year and Buddhist as well as catholic followers to unite, join hands and efforts to further their contributions.

On the same day, standing deputy secretary of the city Party Committee Tat Thanh Cang visited and sent Tet greetings to the clergy at the southern office of the Vietnam Buddhist Sangha in HCMC and monk Thich Nhu Niem, deputy head of the managing board of the HCMC Buddhist Sangha.