The municipal leaders of Ho Chi Minh City met and had a meal with more than 600 workers at Suoi Tien Cultural Park this morning. It is part of program themed "Enjoying Tet with workers 2017".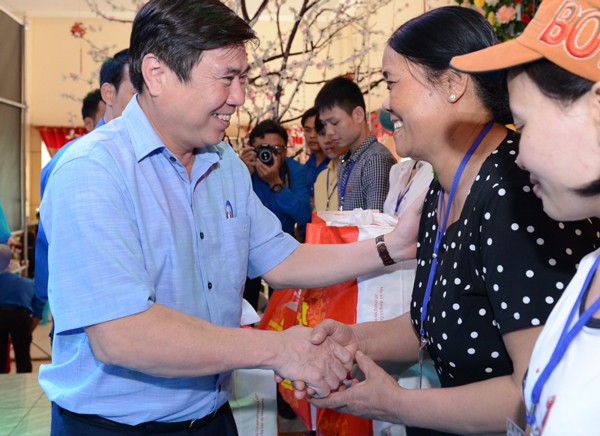 Chairman Phong congratulates workers at the meeting
The program is co-organized by the HCMC Export Processing and Industrial Zones Authority (HEPZA) and Suoi Tien Cultural Park.
Politburo member, secretary of the HCMC Party Committee Mr. Dinh La Thang, Chairman of HCMC People's Committee Nguyen Thanh Phong and Mai Duc Chinh, deputy chairman of the Vienam general confederation of labor attended the program.
Over 600 workers who are working in HCMC industrial parks and export & processing zones and do not have condition to return their hometown for the Tet holiday tookpark the program.
The City's leaders sent them Tet greetings on this occasion.
On the day, the workers visited Suoi Tien free of charge and enjoyed art programs and having a meal with the city leaders. Besides, workers received Tet gifts worth VND 600,000 each.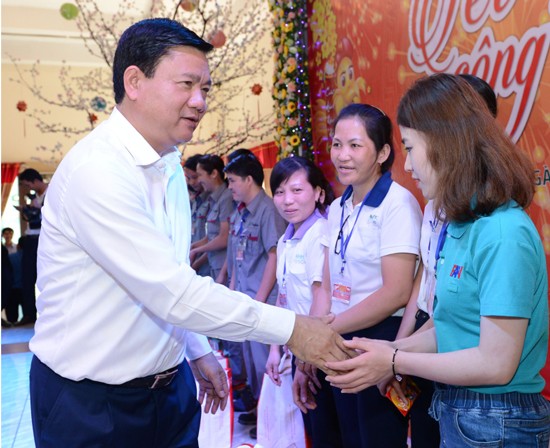 HCMC Chief Party Dinh La Thang sends Tet greetings to the workers
Secretary Dinh La Thang highly appreciated efforts of HEPZA in taking care of the material and spiritual life of the workers. The secretary asked HEPZA and departments, agencies usually pay attention to the life of the workers.