"Happiness comes from devotion. Let us live with all our heart," a forum of Ho Chi Minh City leaders and students heard January 8. The meeting was held to discuss several topics including students' civic duties, putting talent to good use, and scientific research.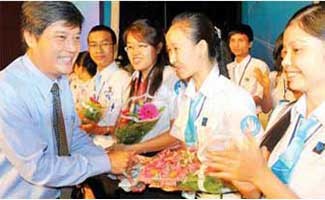 Deputy Secretary of the Ho Chi Minh City Party Committee Nguyen Van Dua presents flowers to members of the Executive Committee of the HCMC Students' Association during a forum January 8 (Photo: SGGP)
Participating in the three-hour dialogue were Standing Deputy Secretary of the city's Party Committee Nguyen Van Dua, Standing Deputy Chairman of the People's Committee, Nguyen Thanh Tai, and leaders of several agencies.
In regards to talent development, the most popular topic discussed during the forum, Nguyen Duc Hoang from the Foreign Trade University said, "The city needs to adopt effective policies on talent recruitment if students are to devote themselves to the development of the city as well as to the country."
A practical and professional process for recruiting civil servants and specific mechanisms regarding working environments, training, and promotion must be promulgated soon, he suggested.
Mr. Tai said: "Attracting talent is not only an issue of how much to pay them but also about creating a favorable environment and conditions for them to advance and succeed."
The city is applying a policy to encourage young people with higher education to work for wards and communes. It is also conducting a training program for students to obtain doctoral and masters degrees and this program has proved its efficiency, he added.
Truong Le Thu Thao, from Pham Ngoc Thach Medical University, asked the city to prioritize a policy regarding students in charge of activities of the Communist Youth Union.
"Obligations must go hand in hand with rights and benefits," she said.
"Participation in the Union's movements itself creates opportunities for young people to gain valuable experience in life," said Mr. Dua.
"I think every Union cadre should channel their own interests into the country," he advised.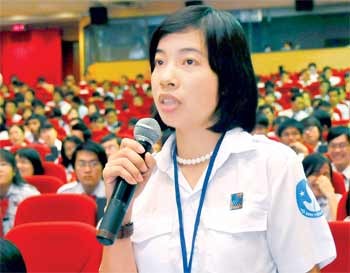 Student Le Mai Anh, a member of the Club of Overseas Students, poses a question to HCM City leaders during a dialogue on issues of student interest held January 8 (Photo: SGGP)
Dr. Phan Thanh Binh, director of the HCM City National University, said: "All of us should understand that living is devotion. Once we have lived wholeheartedly, we will ultimately not suffer disadvantages. To become mature, everyone must be self-motivated and work. I believe [everyone] will become more mature through contributions to communities."
How to boost scientific research among students was also a hot topic at the conference. Many complained that student research was lacking and those projects carried out were often impractical.
Moreover, many students' works have not been applied in practice, they said.
In response, Director of the city's Department of Science and Technology Phan Minh Tan advised: "When beginning any research project, you should think of what the research is targeting and who will benefit from it."
He said the department would work with the city's Communist Youth Union to set up a fund for students' scientific research.
"How to ease traffic congestion or how to prevent environmental pollution could be the themes for research," Mr. Dua suggested.
He also said he highly appreciated all issues and opinions raised by students in the dialogue, and considered them contributions to the development of the city and country.