HCM City's Party Committee and People's Committee Tuesday presided over a conference on dealing with sudden depression phenomenon on city's streets because of careless and irresponsible construction by contractors.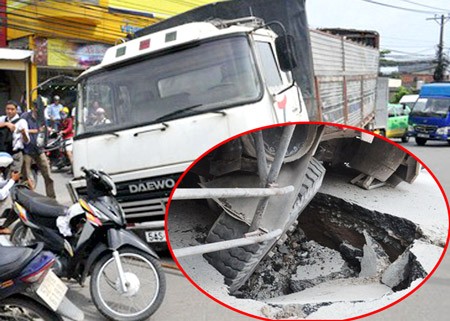 A truct tumbles into a hole caused by depression in To Ky-Nguyen Anh junction in District 12, HCM City.
Director of the city's Transport Department Tran Quang Phuong said reported to the committees the causes of the land depression.
He said that the depression was a consequence caused by insufficient management in urban development, including downgraded technical infrastructure system.
Broken water pipes and water drainage system sweep away sand and soil under street face, causing many vesicles, he added.
The second cause given by Mr. Phuong is careless and irresponsible construction by contractors such as incorrectly digging and recovering streets in many road constructions.
In addition, overloading streets, uncontrolled underground water exploitation leading to breaking city geological basic also affect street face in the city.
City's chairman Le Hoang Quan said that the city People's Committee had deployed measures to ensure safety for residents while travelling on streets.
The city also set up a task group to study underground water exploitation in the city and suggest measure to management the exploitation, the chairman added.
Relating to controlling construction, the city has proposed the Government to accept city's plan to assign the Transport Department to control and evaluate constructions' quality and progress.
In a dispatch by the Government, the Government asked Construction Inspectors to control and evaluate construction instead. 
Regarding on causes of the depression, city Party Chief Le Thanh Hai required the People's Committee to invite more scientists in a research on reasons of the incidence.
The Party chief also agreed to buy detectors for researching more holes under street face because detectors used by the city water supplier can not find holes.
Mr. Le Thanh Hai also asked the Trasnport Depatment to immediately announce residents on new detected holes on streets.