City's Party Committee Secretary Le Thanh Hai in Saturday evening visited and encouraged service workers who were still working in the New Year's Eve night.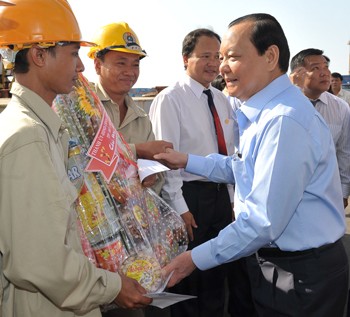 Mr. Le Thanh Hai Secretary of city's Party Committee offers gift to workers who are working on the first day of the Year of the Snake. (Photo: Viet Dung)
Mr. Hai evaluated success achieved by the Urban Environment Company and sent his congratulation to all company's workers who are contributing to beauty, greeness and cleanness of the city.
The city's party leader also shared feeling with the staff that were still working in the sacred moment of every family and the nation.
He reminded company's leaders to encourage and reward workers by bonus.
Mr. Huynh Minh Nhut, company's director said that there were 1,000 environment employees still working before New Year's Eve to ensure the city green, clean and beautiful on Tet Holidays.
At the same time, Mr. Nguyen Van Dua, Deputy Secretary of the city Party Committee also visited The Power and Customer Care Center of Ho Chi Minh City Energy Corporation where there were over 360 engineers still working to ensure energy for the city.