Deputy Chairman of the Ho Chi Minh City People's Committee Le Van Khoa and representatives from departments, agencies paid Tet visits and extended Tet wishes to leaders & experts, employees at the Da Phuoc Waste Treatment Complex under Vietnam Waste Solutions (VWS) and HCMC Urban Environment Company, yesterday.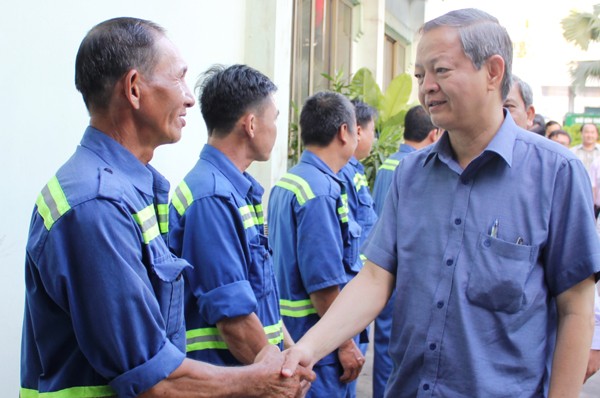 Deputy Chairman Le Van Khoa extends Tet wishes to employees at Da Phuoc Waste Treatment Company
The VWS said the volume of waste that Da Phuoc has had to treat are about 70 percent of the city garbage, equal to 5,000 tons of garbage per day. During the peak period (the Tet holiday), around 10,000 to 11,000 tons of garbage will be treated per day therefore experts, engineers, laborers must add more working hours to ensure their working schedule.
The company must mobilize 7,000 laborers and 2,000 trucks to collect the garbage in the Tet holiday.
The deputy chairman highly appreciated the VWS's work in ensuring clean city during the Tet holiday, asking the company should pay more attention to health workers' attitude. On behalf of the city leaders, deputy chairman Khoa sent Tet wishes to the VWS leaders, workers and offered the Li Xi (lucky money) to workers.