The Ho Chi Minh City People's Committee convened their customary meeting to review the socio-economic situation of the year's first nine months and discuss solutions for their unmet, annual targets on Thursday.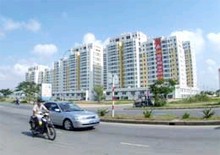 HCMC's Phu My Hung New Urban Area

In the first nine months of 2006, the city's GDP growth was 11.5 percent and its urban management has seen positive changes. However, the industry growth rate is still lower than other parts of the country and the total investment capital only reached 68.3 percent of its original target. In addition, urban management has yet to meet the demands for better living standards and economic development.

City leaders have put forward eight urgent solutions for the remaining months of this year in a bid to fulfill the annual target of 12.5 percent gross domestic product (GDP) growth.

The city will mobilize all available resources and fully tap its potential resources to further promote the growth of all economic sectors; especially the service industry.

It will also respond by accelerating the construction of key works and speeding up fund disbursement for projects using State funds and official development assistance (ODA).

Officials from the municipal People's Committee, other departments, local districts and state-owned businesses will increase fact-finding trips to promptly remove difficulties hindering the city's socio-economic development.

Many proactive steps are being taken to put the city back on track to meet all original hopes and expectations.