The Ho Chi Minh City People's Council began a meeting yesterday to review socio-economic development this year, discuss plans for 2009, and pressing issues that could undermine growth quality, like pollution, traffic jams, and flooding.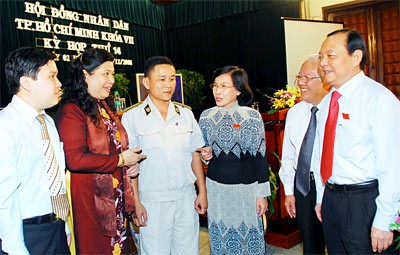 Tong Thi Phong (2nd L), deputy chairwoman of the National Assembly, Pham Phuong Thao (3rd R), chairwoman of the HCMC People's Council, Le Hoang Quan (2nd R), chairman of the city People's Committee, and Le Thanh Hai (1st R), the city Party Committee secretary, in a conversation after a session of the People's Council yesterday (Photo: SGGP)
Speaking at the opening session, chairwoman Pham Phuong Thao said the city has posted remarkable achievements this year despite the global economic crisis.
The size of its economy, estimated at nearly VND291 trillion (US$17.2 billion), has grown by 11 percent this year, 1.6 times the national rate.
The city's exports were worth $24.8 billion, a year-on-year increase of 35.4 percent, while imports were up 28 percent at $19.2 billion. Industrial production is up 13 percent.
Gross capital formation was VND114.5 trillion ($6.75 billion), an increase of 20.4 percent.
Foreign direct investment was worth $8.2 billion, 4.25 times last year's figure.
Prices rose by 21 percent year on year, lower than the 24 percent rise in the country's consumer price index (CPI).
But Ms. Thao admitted that only 15 out of 20 targets set for 2008 have been achieved. According to a report by the committee, economic growth, CPI, long-term vocational training, and birth rate targets are unlikely to be reached.
Ms. Thao also told the meeting that despite encouraging economic growth, the quality of development remains much lower than expected.
She said the alarming pollution levels, social vices, flooding, dug-up roads, and others are pressing problems facing the city.
Council member Truong Trong Nghia said, "The more the economy grows, the worse the pollution gets."
The pollution is at alarming levels, especially in the city's canals, he added.
Nguyen Dang Nghia, another member, said he has warned many times against the threat posed by medical waste, but the agencies concerned have not heeded his warnings.
"People's lives are threatened by the pollution," he added.
Nguyen Van Minh said firms polluting the environment have not been adequately penalized, adding this issue must be included in the house's resolution.
Nguyen Dang Nghia said the council has to closely monitor and take immediate measures to complete repair and other works on roads. People suffer from horrific traffic jams caused partly by the dug-up roads.
He said while the people face hardships, many city agencies remain indifferent.
2009 plans
Ms. Thao said the economy would face difficulties in 2009 due to the global financial crisis and economic downturn.
The city People's Committee has proposed an economic growth target of 10.5 percent and containing inflation at below 15 percent next year.
Gross capital formation is projected at VND130.7 trillion ($7.7 billion).
The administration hopes to reduce the rate of people living below the poverty line (VND12 million, or $710, per year) to 13.8 percent by the end of next year.
It also aims to increase the number of people with access to clean water to 91.5 percent, and reduce its birth rate by 0.01 percent.
Mr. Nghia said that to ensure sustainable growth, the city should invest in technology, including biotechnology.
It also should support small and medium-sized enterprises because they contribute a great deal to the city's revenues, he added.
Council member Dang Van Khoa said public projects need to be reviewed to ensure their effectiveness.
Members suggested this year's campaign of "The Year for the Implementation of Urban Civility" should be continued in 2009.