Ho Chi Minh City has licensed more than 530 foreign workers so far this year. The number of licensed foreigners in 2007 was 1,791, according to the Department of Labor, War Invalids and Social Affairs.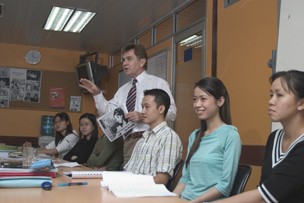 A foreign teacher gives his lecture at the HCMC-based International Language Academy (Photo: ILA Vietnam website)
The number of foreign employees in city-based companies increased by 20 percent in the last year. Most of the new workers come from China, South Korea, and Japan.

Foreigners work in human resources management, information technology, accounting, entertainment, travel, advertising, animated film and graphics.

The areas that attract most foreigners are footwear, textiles, education and training.

The portion of foreign employees with high qualifications and skills is 64.5 percent.