Inland waterways are becoming increasingly vital for economic development and HCM City should consider how to improve the efficiency of its waterway system, an official has said.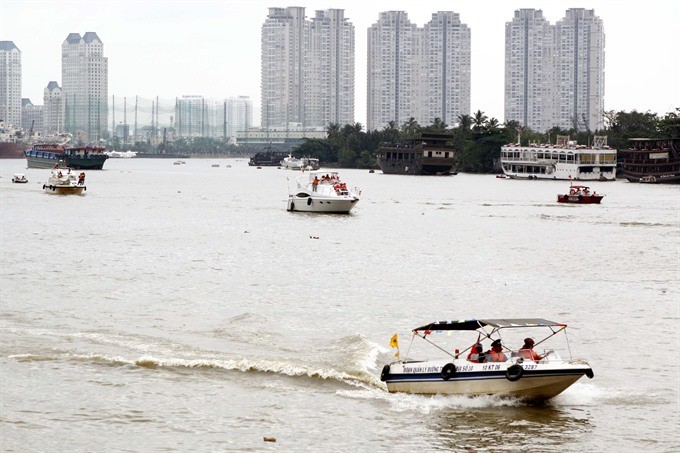 Waterway police patrol the Bach Dang Wharf in District 1, HCM City. – VNA/VNS Photo Hoàng Hải
City-and central-managed waterway routes and 319 large and small sea and river ports make up a huge waterway system that connects the key southern economic region with the outside world.
"Therefore, waterway management and exploitation are very important for the city's socio-economic development," an official from the city's Department of Transport was quoted as saying in the Sai Gon Giải Phóng (Liberated Sai Gon) newspaper.
Proper investment in waterways would help significantly reduce transport costs as well as ease the enormous pressure on the road system, he said.
Expansion of waterways, unlike roads, is inexpensive, a big advantage for the former.
"One 300-tonne barge can transport the same goods as 15 heavy trucks and is less polluting," the official said.
The advantage is even greater when it comes to transporting very long or heavy objects, he said.
It is necessary to invest in waterways, especially on important routes, he said.
According to the city's domestic waterways master plan, there are five important inland waterway routes that are wide and deep enough for medium-sized and large vessels.
"These five … are key waterway transport routes linking the central-managed waterway system of Ong Lon Canal-Cây Khô Channel-Can Giuoc River with the Soai Rap River route for seagoing vessels," the official said.
Such systems would help easily move import and export goods to and from the crowded Cat Lai and Hiep Phuoc seaports.
All five routes are navigable by 50-100-tonne vessels.
According to the transport department's Inland Waterway Management Division, after authorities dredge the five routes, they will meet three main standards for an important waterway route: allowing ships to sail from shallow to deep spots, from seaports to cities, and from small to big ports.
They will directly connect seaports in HCM City, the country's biggest economic hub, with the Mekong Delta, which accounts for most of the country's agricultural production.
The Dơi Canal-Kinh River route measures only nine kilometres but links all ports in the downtown area with the Hiep Phuoc Seaport.
This helps businesses save the time and expenditure required to transport their import-export goods between the downtown ports and Hiep Phuoc.
The Tôm canal-Phước Kiểng branch route connects all ports in Districts 4 and 7 with Hiep Phuoc sea port through Đỉa and Ong Lonchannels.
The Chiec Canal-Trau Trảu Canal route connects the Sai Gon and Dong Nai Rivers, allowing the neighboring province of Dong Nai to access Cat Lai Port and those in Thu Duc District.
The Giong Canal-Kinh Lo River route links Hiep Phuoc Port with Mekong Delta provinces and the Sai Gon, Dong Nai and Soai Rap Rivers link Hiep Phuoc Port with Binh Duong, Dong Nai and Ba Ria-Vung Tau.