On the occasion of the Day for Vietnamese AO Victims (August 10), the Vietnam Association for Victims of Agent Orange/Dioxin in Ho Chi Minh City launched a series of related activities from August 2 to 10.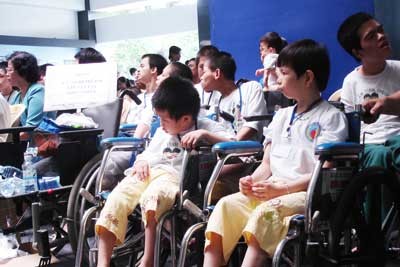 AO children at the show in the War Remnants Museum on August 7( Photo; U. Phuong)
The War Remnants Museum held a show for AO victims on August 7.
One hundred and fifty children from charity houses, including Thien Phuoc, Hy Vong 6 and Ky Quang Pagoda and Hoa Binh Village in Tu Du Obstetrics Hospital, gathered in the museum to enjoy musical performances and circus skills presented by students from the Medical University.
The children were also given gifts.
At the museum, a photography exhibition, "Scars of the Vietnam War," by two Japanese photographers, Nishimura Yoichi and Murayama Yasufumi, features the lives of AO victims in the city.
A special musical program will be staged at the Ho Chi Minh City Opera House on August 10 to thank benefactors who contribute to the fund to help AO victims.
The event will also announce those people who have had houses built for them by the fund. 
Pictures, including one made of precious stones signed by President Nguyen Minh Triet, will be auctioned at the event to raise funds.
In addition, some activities to mark the day will take place in the Youth Cultural House in Pham Ngoc Thach Street from August 2 to 10.