The Ho Chi Minh City People's Committee has just agreed to stop work on the 2003-2008 telecommunications and internet project in the High-Tech Park, and begin planning a new, more modern project for the area.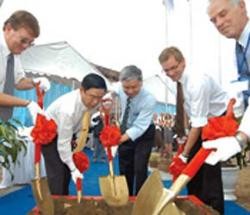 Ground breaking ceremony of a new project in the High-tech Park
The Department of Planning and Investment has been assigned to cooperate with the project's management board and investors to rename the modified project on the list of national budget plans, and then submit the new project to the HCMC People's Committee by the fifteen of the month.
After the Department of Posts and Telematics' assessment of the park is completed, the management board will allow investment projects to enter the regulatory phase.
The city authorities will, however, allow completion of the first stage of the original the project.
Landscaping, in the form of park creation and tree planting, will also be completed as planned to ensure the identity of the High-Tech Park.