According to the Department of Natural Resources and Environment in Ho Chi Minh City, about 6,000 tons of household garbage and 500 tons of other waste matter are dumped each day in the city.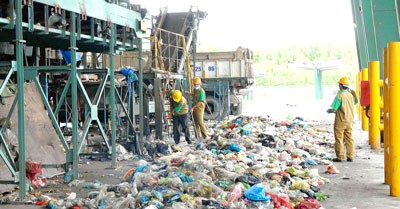 Plastic bags being separated at a recycling unit at Vietstar Waste Treatment Plant in HCMC (Photo: SGGP)
Almost 50 percent of the household waste is being handled at Da Phuoc Waste Treatment Complex in Binh Chanh District and the remaining is being treated at Da Phuoc Complex in Cu Chi District.
While cesspit waste is being handled by Hoa Binh Waste Treatment Company, industrial garbage is being treated at the HCMC Urban Environment Company.
Vietnam Waste Solutions Company, investor of the Da Phuoc Complex, said the company will use 2,000 of 3,000 tons of waste to produce compost, an organic fertilizer.
With this, only 1,000 tons of garbage will be left for making bio-gas, which is being planned for use for the 12MW power plant at the complex, expected to be operational by end of this year.
The company has expressed concern that 1,000 tons of garbage will not be sufficient to generate enough gas for operating the power plant, and has asked city authorities to give them more waste.
Similarly, some compost production units in Phuoc Hiep Waste Treatment Complex also want more garbage.
Meantime, a number of tank trucks have not transported cesspit waste to the Hoa Binh Plant for treatment but to somewhere else, for their own benefit.
The City People's Committee and the Department of Natural Resources and Environment have planned to install the global positioning system on the tank trucks to control and monitor their routes.
While garbage demand at waste treatment plants has been increasing, several road corners and canals are littered with trash which includes industrial and household waste and even animal carcasses.
According to the environment department, the indiscriminate dumping of waste on streets and canals is due to low awareness of local residents. Besides, garbage collection and penalizing for littering has not proved effective.
At present, public service companies are only sweeping and collecting garbage along main roads. Similar work in alleys is the responsibility of private workers who mainly collect but not sweep roads.
Local authorities face a severe shortage of human resources and capital to function effectively in stopping littering.