Ho Chi Minh City needs an enormous amount of funds to develop infrastructure, the acquisition of which will require better policies geared towards attracting foreign investment, said experts at a conference on June 24.
The city has launched hundreds of ongoing projects, including those in public transportation infrastructure, supply and sanitation, most of which demand a huge amount of capital investment.
Many of the projects are worth hundreds of billion VND, and some are even worth trillions of VND, said deputy Chairman of the city People's Committee Nguyen Thanh Tai said.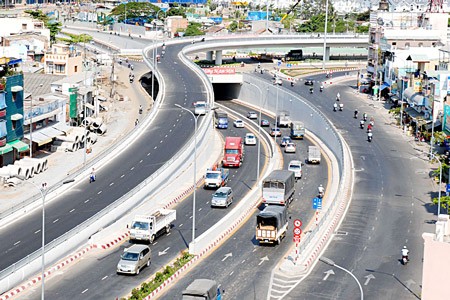 Ho Chi Minh City is calling for private investment into transportation infrastructure. (Photo: SGGP)
He said that projects slated for this year and next year alone are worth over VND300 trillion (US$15 billion). He said completing the tasks was a daunting mission for investors in the city
He added that the city needed not only to welcome foreign investors, but create the best possible environment for them to participate in major infrastructure works.
According to Deputy Minister of Planning and Investment Dang Huy Dong, Vietnam needs a total capital of around $150 – 160 billion for transportation, electricity, water and sanitation infrastructure over the next ten years. Meanwhile, the national budget just meets 5 percent of the total investment capital required, Mr. Dong said.
Therefore, mobilizing an enormous amount of capital from private sources to invest into infrastructure development is one of important and effective measures that Vietnam will implement in near future. This also is experience of most development countries in the world, Dong said.
Investment into infrastructure always needs huge capital that no stage budget in any country can meet, and Vietnam is not an exception, he said.
The conference gathered domestic investors alongside foreign investors from Holland, England, Korea and other countries.
Investors at the conference were curious about new projects, but were most interested in expressing their concern over cumbersome and limiting administrative procedures, said Dong.
A new model
Deputy Minister Dong said in the past the city and other provinces across the country had called for all sources of private capital to invest into infrastructure in the forms of BOT (build-operate-transfer), BT (build transfer), BOO (build-operate-own). However, these forms have been inadequate in several ways, Dong said.
Specifically, investors have to complete administrative procedures on their own, a process that takes far too much time and is jeopardizing development efforts, Dong added.
It is necessary to have a new model that will help investors implement projects more easily, he said.
Public-private partnerships (PPP) presented by the ministry at the conference could be a more effective model for the city to pursue. PPP mobilizes capital for infrastructure in the city by partnering public and private sources of funds together on big projects.
With the PPP model, the state handles all investment procedures and even draws up the contracts.
The best projects that have ability to take capital back quickly will be called for investment under PPP model, Dong said.
The ministry will meet with the city People's Committee to discuss and select routes for a metro project that will likely need funds from all sectors: public firms, private companies and financial institutions, Dong said.
He said it was important to ensure that all partners profited from such projects.
According to Nguyen Mai Bao Tram, Deputy General Director of the city Infrastructure Investment Joint Stock Company (CII), the government needs to create a clear legal framework for the PPP model while ensuring the rights of investors in order to attract private sector investment in infrastructure projects.