Ho Chi Minh City has implemented several measures to deal with traffic jams but more detailed plans are necessary to achieve real progress, said Deputy Prime Minister Hoang Trung Hai during a meeting with local leaders on December 28.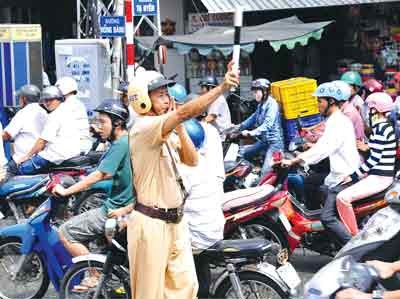 A warden directs traffic on Hong Bang Street in HCMC's District 5. Deputy Prime Minister Hoang Trung Hai said December 28 that more comprehensive measures are needed to curb traffic congestion. (Photo: SGGP)
Mr. Hai ordered the Ministry of Public Security to devise regulations to control local population increases as one means of reducing traffic. The Ministry of Finance, meanwhile, was instructed by the Deputy PM to provide financial support to the city to construct major traffic infrastructure projects.
In HCMC, the country's largest commercial hub, the total number of registered vehicles tops 4.4 million. But traffic congestion is a problem which affects the entire nation, said Mr. Hai.
He stressed that city leaders must consider conducting more researches and working with ministries and branches to put forward new initiatives and find solutions.
He applauded efforts to build better infrastructure, both short-term and long-term, to ease the problem. The city has widened roads, built overpasses for pedestrians, and has taken steps to move state offices, large hospitals and schools to suburban districts.
In addition, the media has raised public awareness of traffic laws and promoted public transport. Officials have also made efforts to dissuade the purchase of personal vehicles and staggered school hours to lessen gridlock.
However, traffic congestion continues to plague the city.
According to the municipal Department of Transport and Communications, there have been 69 serious traffic gridlocks so far this year, 25 more than in all of 2008.
Senior Lieutenant Colonel Ngo Minh Chau, deputy head of the city's Department of Public Security, said the city had failed to control the number of new personal vehicles on roads as well as an influx of immigrants into HCMC.
Mr. Hai proposed the city continue raising public awareness about reducing traffic, strengthen traffic monitoring and management work, speed up transport infrastructure development projects, and improve the city's bus service.
 
Participants at the meeting said construction of infrastructure needed to be prioritized. City leaders petitioned the Deputy Prime Minister to increase the allocation of state budget funds to investment in road construction.
They also called for the government's help in boosting construction of new urban centers and satellite cities in the southern provinces of Dong Nai, Binh Duong, and Long An to decrease the population density in HCMC; removing seaports in the Sai Gon River; and restricting motorbike imports.
The Ministry of Transport must speed up major traffic constructions throughout the city, leaders added.