Enterprises in Ho Chi Minh City will need to recruit 95,000 labourers during the last three months of the year, according to the city centre of labour information.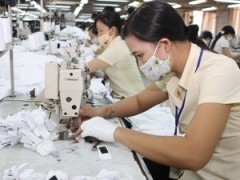 Workers at Viet Tien Garment Corporation in Ho Chi Minh City
The centre conducted a survey and collected recruitment data through placement agencies to assess recruitment requirements in Ho Chi Minh City.
Data shows that besides the total number of fixed workers, there will be need for about 20,000 seasonal workers.
Tran Anh Tuan, deputy director of the centre said that demand for recruitment of new workers in the city has been steadily increasing by 16.6 percent in the first nine months of 2011. However, the centre thinks that only 60 percent of the total labour demand can be met.
Tuan added that currently many firms are looking to recruit workers for sales jobs, marketing, mechanical work, electronics, customer services, information technology, construction and food processing.
The demand has been increasing sharply in labour-intensive industries such as garments and footwear.
During the first nine months of the year, many enterprises have adjusted their salary structure to meet with inflation, but workers have still resigned from their posts as they do not feel the salaries are high enough to sustain them.
The continually rising prices of commodities make any marginal increase in salaries quite insufficient to cover basic needs of workers in today's date. Workers are willing to quit their current jobs for better paying jobs that also offer better welfare policies.
 
As a result, small and medium enterprises, which cannot pay higher wages, have had to let go of workers and face a severe labour crunch.