The Saigon Commercial and Media Service Corporation in collaboration with the Institute of Development Studies organized a seminar on July 17 in Ho Chi Minh City themed "Implementation of Public-Private-Partnership projects: Experience and recommendations".
According to the organizers, the demand for investments in transport infrastructure in HCMC is very high and billions of dollars are needed to improve, upgrade and build sufficient infrastructure.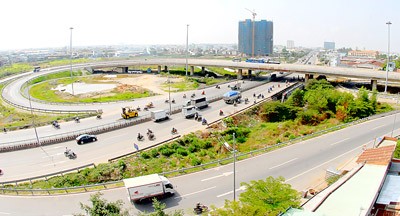 Newly built transport system in HCMC contributes to the growing of the economy ( Photo SGGP )
However, state budget funds are limited and ODA funds are also not adequate.
Meanwhile, before the issuing of a decree on November 9, 2010 signed by the Prime Minister promulgating regulations on pilot investments under Public-Private-Partnership, Vietnam had about 100 PPP projects under BOT (Build-Operate-Transfer) or BT (Build- Transfer).
However these projects proved unsuccessful in terms of targets, numbers and quality.
Some of these projects have even been considered a failure such as the BOT Binh Trieu Bridge, because of lack of a legal framework, a number of risks arising in the implementation of the PPP model that were not removed in time, thus reducing the effectiveness of the project and discouraging investors.
The type of investments under the PPP model, to mobilize private sector capital investment in the field of public services--particularly in building technical and social infrastructure, have grown dramatically in many countries for several decades.
This is a form of socialized investment aimed at reducing the burden on the state budget, speed up services on good social infrastructure and economic development and improve people's lives.