Recently, following the Government's call on Hanoi and Ho Chi Minh City to focus on public transport, HCMC's authorities have made a proposal to control private vehicles.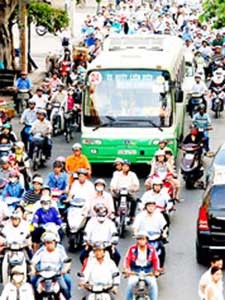 A crowded street in HCMC. It is necessary to promote the use of buses and restrain the use of personal vehicles to avoid future problems, an expert says.
Dr Pham Xuan Mai, of the HCMC University of Technology, talked with Sai Gon Giai Phong on the issue.
Dr Mai, head of the Automobiles Division of the university's Transport Faculty, said that large cities, such as HCMC and Hanoi, cannot develop public transport without control over private transport, since uncontrolled development of the latter will lead to less space for public transport in narrow and crowded cities.
However, he said the development of the bus system in HCMC is facing some problems.
One of these is that the road system of the city has yet to be well arranged, almost having no beltways and any it does have are yet to be connected in order to become an uninterrupted network.
Another issue is the city does not have enough space to set up transitional stations for buses and therefore bus routes cannot be connected.
In addition, the random development of some residential areas has also made the bus system's operations more difficult.
Nonetheless, he said, it is necessary to promote the use of buses and restrain the use of private vehicles to avoid future problems.
One of the problems is that private vehicles are not as safe as that of public transport, he said, citing the city's Committee for Traffic Safety's statistics that showed motorbikes are the leading cause of road accidents.
Another problem is the uncontrolled development of private vehicles will make traffic congestion worse and environmental pollution more serious, he added.
Based on the actual conditions of the city's road system, the university has prepared a project for bus development, under which the city will be divided into seven bus service sections that are well connected to ensure better efficiency, he said. 
The university has completed the first phase, which has been checked and assessed by the city's Department for Science and Technology, and is looking at the second phase of the project, he added.
As regard controlling private means of transport, he pointed out that the city now has five million such vehicles, a large number considering the city's population and road surface.
In face of the large number of private vehicles, the city has found it hard to put traffic order and safety under control. Drivers have worsened traffic jams and if no solutions are put in place, the city will suffer from more congestion in the future, he warned.
He advised the city to publish information on the necessity of limiting the use of individual vehicles and set up a plan to re-arrange the city's traffic system and then executing the plan efficiently.