Ho Chi Minh City People's Committee vice chairman Nguyen Thanh Tai inspected the passenger transport systems at the western and eastern bus stations on January 25.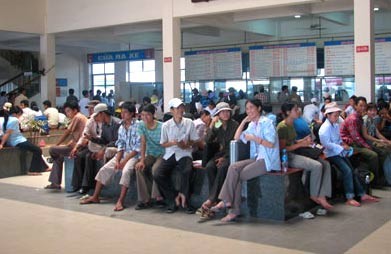 Passengers wait for their buses at the Eastern Bus Station in Ho Chi Minh City
He asked the Western Bus Station to lay stress on public security and fortify its fire prevention systems during the Tet holiday season.

The station was also asked to increase the number of buses to transport more passengers during this time.

He asked the Eastern Bus Station to make all arrangements to transport passengers to their homes to celebrate Tet.

Nguyen Ngoc Thua, director of the Eastern Bus Station, said the number of passengers traveling to northern, central and central Highland provinces soared sharply on January 21-24 to about 45,000 passengers.