Almost all managers from the Ho Chi Minh City Department of Construction sought to answer the public's questions about land and house ownership, and related procedures at an online Q&A session on Thursday, held by Sai Gon Giai Phong newspaper.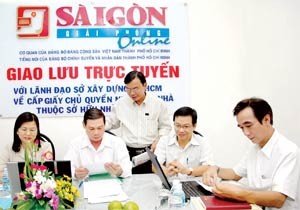 The Department of Construction's representatives answer the public's questions on Thursday (Photo: SGGP)
Hundreds of questions were sent to the department's officials just in moments and deputy director Do Phi Hung asked most managers to deal with them.

Land and house ownership and related procedures have become hotter questions since early September when the Government issued a new decree on these issues.
During the online Q&A session, the Department of Construction said it is acting as an advisor for the Ho Chi Minh City People's Committee to finalize the procedures, and new ownership certificates will be issued as from late December.
If land and house conditions remain the same as before, it is unnecessary to have documents changed into new forms, the department said. If the conditions or the owner has changed, new documents are required.
Overseas Vietnamese asked by themselves or via their relatives in Viet Nam about whether they could own a house in the nation, although Sai Gon Giai Phong did not mean to let the session cover this problem.
The answer was that those overseas Vietnamese allowed by the Government to return can buy a house under law. Those allowed to stay in Viet Nam at least six months can own a house or apartment.
Many asked about cases in which overseas Vietnamese used to be property co-owners. The answer was that the National Assembly Standing Committee has issued a decision ruling house deals made before July 1991 with the involvement of overseas Vietnamese; however the committee has not issued guidelines for implementation.
A person in Ho Chi Minh City's Go Vap District said land and house ownership procedures in Viet Nam are still too complicated for citizens to understand all.