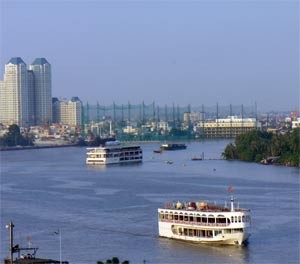 A general view of the growing Ho Chi Minh City (Photo:TK)
Ho Chi Minh City must do more to reverse the climbing crime rate and make the city a safer place for its residents and visitors, the City's Party Committee has ordered.
Political and social organizations as well as the relevant government agencies must meet every six months at least to review the targets of the city's 2001-2007 Crime Prevention Program, discuss the progress they are making to meet these targets, or lack thereof, and come up with effective strategies for the future.
The tasks before the city's Fatherland Front Committee and the Department of Education and Training are to run campaigns to raise the public's awareness of the fight against crime and to teach schoolchildren what's wrong and what's right from a legal point of view.
The police and the military must monitor all the official activities in the war against crime, draw up a plan for establishing a police task force, and submit the plan to the Ministry of Public Security.
Despite the increase in the number of homicides (up 8.21%) and robberies (up 16.37%) in Ho Chi Minh City, the party committee is quick to point out that some progress is being made.
Indeed, the first half of 2007 saw an overall 1.05% decline in the number of reported crimes, mainly thanks to police focusing their attention on criminal gangs, racketeering and drug-related offenses.