Several parking lots in the downtown area in Ho Chi Minh City are charging exorbitant parking fees that are ten times higher than the regulated fees set by the People's Committee.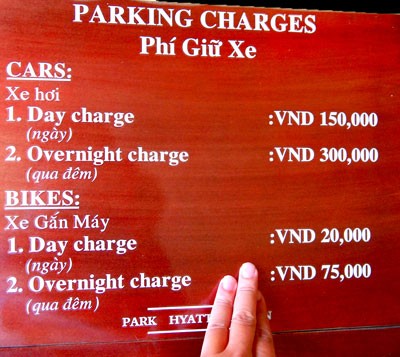 A board displaying parking charges at a parking lot in District 1 (Photo: SGGP)
A Saigon Giai Phong Newspaper reporter on July 23 parked his motorbike at the Kumho Asiana Plaza building parking lot on Le Duan Street in District 1 for only a couple of minutes and was charged VND10,000.
The parking lot staff explained that the fee is VND10,000 for the first three hours, and doubles every three hours.
A woman from District 3, who didn't want to reveal her name, said that she recently left her motorcycle at the above parking lot from 9am to 5pm and was charged VND70,000. This is unacceptable, she said.
At the same parking lot, cars have to pay much higher, about VND50,000 for the first three hours and VND100,000 for the next three hours. Overnight charges can reach VND200,000 per car.
Parking lots for other buildings, hotels and restaurants in the downtown area of the City are also charging prohibitively high rates.
The underground parking lot of Caravelle Hotel in District 1 has posted boards announcing day and overnight charges for   motorcycles at VND12,000 and VND50,000, respectively.
Similarly, Saigon Center at the corner of Le Loi and Pasteur Streets in Ben Nghe Ward charges VND40,000 per motorcycle for the duration of four hours, VND10,000 above four hours and VND15,000 for six hours.
Pham Hoai Quang, deputy chairman of the Ben Nghe Ward People's Committee, said that they are aware of the exorbitant parking fees in some buildings in their area. However, they have not taken any action as this is not under their jurisdiction. They can only bring this to the notice of the City authorities.
According to a Decision issued by the HCMC People's Committee on December 30, 2005, day and overnight parking charges for motorcycles are VND2,000 and VND3,000 respectively. For automobiles that are 4-15 seaters the fee is VND5,000-7,000 and for automobiles of more than 15 seats the fee is VND10,000.