People in polluted Ho Chi Minh City go to parks to relax but are finding the little green spaces being taken over for businesses and social evils.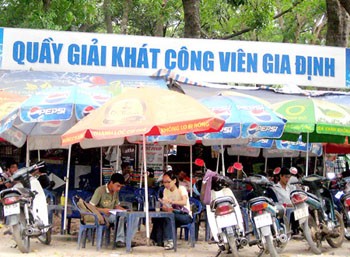 A coffee shop in Gia Dinh Park, Go Vap District, HCMC (Photo: SGGP)
Sai Gon Giai Phong, upon hearing this complaint from some city residents, visited some parks like Hoang Van Thu in Tan Binh District, Van Lang in District 5, Gia Dinh in Go Vap District, and Phu Lam in District 6 and found coffee and refreshment shops operating there and needles discarded by drug users lying around.
N.V.S, a retired man and a regular visitor to Hoang Van Thu Park, said after they were allowed to open, some coffee shops have put up tables and chairs and umbrellas, and visitors also have to suffer from the music they play.
Hoang Van Thu and Phu Lam parks are also being used by vendors to sell ornamental plants.
A portion of Phu Lam has been let out for people to open Internet, billiards, and sports-goods shops.
At Le Thi Rieng, vendors sell ice cream, fast foods, and water bottles in front of the main entrance, causing the place to be badly littered.
But a bigger problem is that they are becoming a venue for social evils. At Van Lang Park on November 6, Sai Gon Giai Phong saw many needles covered in blood lying around benches.
Lam Khanh, a woman living near the park in District 8, said she is extremely concerned her children would step on the needles when they play in the park.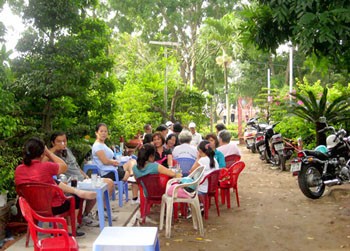 A cafe and parking lot in Phu Lam Park in District 6 (Photo: SGGP)
Residents had reported the problem to local authorities in vain, she said.
People visiting Hoa Binh Park in the same district also see beggars sleeping on benches and drying their clothes.
The city has 113 parks, gardens, and lawns spread over 233 hectares, or 1.7 percent of the city's area.
To protect these green "lungs," the People's Committee passed a document in 2005 banning all business activities in parks.
Thus, the question that arises now is which agency is responsible for this state of things and when will these problems be resolved?