Secretary of the HCMC Party Committee Dinh La Thang on February 12th asked authorized agencies to call on private partners in building a pipe system taking water directly from Dau Tieng reservoir to city water plants.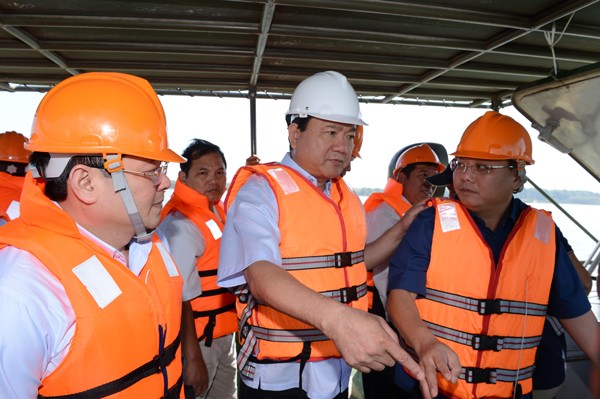 HCMC party secretary Dinh La Thang surveys Dau Tieng reservoir in Tay Ninh province on February 12th (Photo: SGGP)
He was speaking while leading a city delegation to survey Dau Tieng, the country's largest fresh water reservoir in the neighboring province of Tay Ninh, seeking solutions for the sustainable development of water supply source for HCMC.
Taking to Sai Gon Giai Phong Newspaper, an expert in the delegation said that last year HCMC water plants had to stop taking water many times or met with difficulties in water treatment because of high salinity in the Saigon and Dong Nai rivers.
Salt intrusion would continue causing bad impacts to the city's water supply. At present, HCMC is under the big pressure of fresh water supply for tens of million of citizens, he added.
According to the expert, Dau Tieng reservoir has to discharge millions of cubic meters to push back salt penetration in the Saigon river for Tan Hiep water plant in HCMC to take sufficient water and operate at the capacity of 300,000 cubic meters a day.
The water release is an unthrifty solution wasting natural water source, he affirms. One of sustainable solutions is the installation of a pipe system directly supplying water from the reservoir for HCMC water plants, which will no longer take water from the Saigon river.
Director of Dau Tieng Company Le Van Dung proposed HCMC to call on investors to build the pipe system to ensure the sustainability of water supply source, water quality as well as save and increase state budget revenue.
In addition, he proposed the city to continue financial assistance for the company's natural disaster prevention and search and rescue annually and repair of downgraded items in the reservoir.
Dong (East) canal is the main water supply canal for agricultural and industrial production and households in Tay Ninh, Long An provinces and HCMC. Water supply must be ensured 24/7 raising difficulties for the canal's maintenance and repair as well as ensuring water quality and environment.
If industrial and agricultural water supply is not separated from the source for HCMC households, it will not ensure water quality and cause huge loss, he says.
Mr. Dinh La Thang appreciated Tay Ninh province for rightly performing its tasked function by the Government to promote the importance of Dau Tieng reservoir, uphold water supply security and prevent flooding in the lowlands.
He hoped that the Ministry of Agriculture and Rural Development and Dau Tieng Company to suitably and effectively change operation regulations of the reservoir basing on socioeconomic development plans of provinces in the lower reaches of the Saigon river.
The Government has listed Dau Tieng reservoir as an important work relating to national security, therefore its operation should make sure national security, defense and regional socioeconomic development, Mr. Thang suggested.
The company should pay attention to environmental management for the reservoir with specific and effective measures and improve the qualification of staff and officials operating the reservoir. One of important solutions is to invest in modern observation stations to exactly forecast water level and function the work safely and efficiently, he added.
 
HCMC pledges to assist the company as much as possible for the absolutely safe operation of the reservoir which will not only ensure water source security and citizens' safety, Mr. Thang affirmed.
Besides having plans to give the company annual financial assistances, the HCMC People's Committee should choose fish species with high economic value and ecological balance ability to release into the reservoir, contributing in social welfare for locals, he required.
He also requested the committee to consider financial assistances for natural disaster prevention and search and rescue as per the proposal by Dau Tieng Company.