He was speaking while leading a delegation of city leaders to visit SGGP on the occasion of the 94
th
anniversary of Vietnam Revolutionary Press Day, June 21.
At the current time, the press holds a very important role, the Party Secretary said. He hoped that the staff of reporters of SGGP which is the voice of the city Party Committee, government and people, to continue affirming the role of the newspaper and making excellent contributions to the city.
Aside from that they should cheer the city's spirit and determination of solving ongoing challenges such as traffic jam and flooding in line with the motto "HCMC is not at a deadlock," asked Mr. Nhan.
Expressing pleasure to progresses and efficient contributions by Sai Gon Giai Phong Newspaper to the city's development, he said that the newspaper's content has clearly developed with the quality of articles having been improved in association with the Party's leadership. Good professional work has created trust from readers, helped the newspaper maintain and increase its issue number. These results have positively contributed in improving the life of reporters, editors and staff at SGGP tightening their attachment to the newspaper, he commented.
He referred to some special subjects and outstanding series of articles by SGGP which closely followed the city's situation. Especially, SGGP is one of press agencies leading in propaganda of innovation spirit which is the biggest resource of HCMC.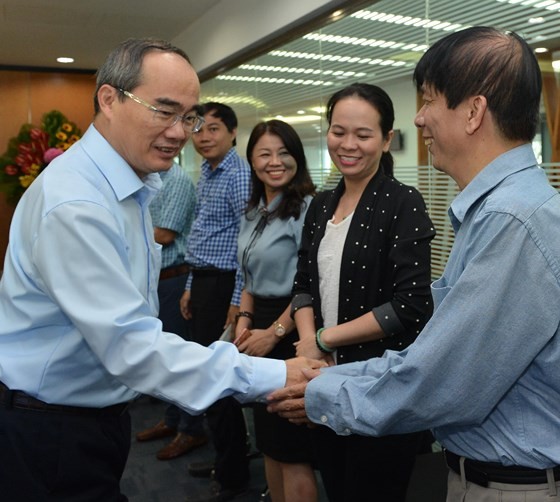 Mr. Nguyen Thien Nhan (L) visits Sai Gon Giai Phong Newspaper (Photo: SGGP)
Cheering the newspaper's plan of continuing informing of works and projects obtaining HCMC Creative Awards 2019, Mr. Nhan said that contribute in creating the diffusion of creative spirit.

On the same day, the Party Secretary visited and congratulated Nhan Dan (People) Newspaper in HCMC, Vietnam News Agency in the southern region and HCMC Television on the occasion of the Vietnam Revolutionary Day.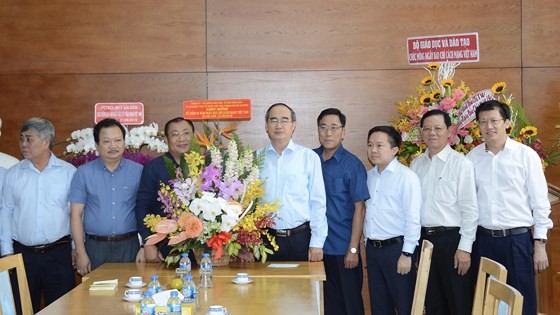 HCMC Party Leader Nguyen Thien Nhan visits Nhan Dan Newspaper (Photo: SGGP)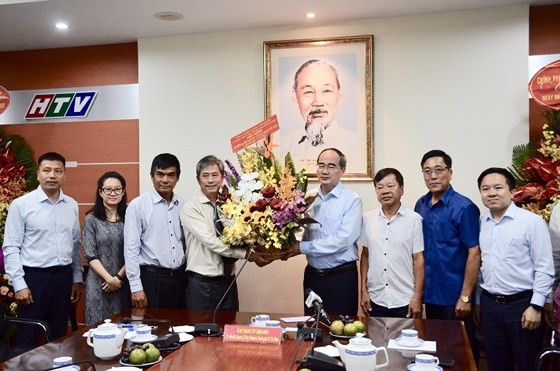 HCMC Party Leader Nguyen Thien Nhan visits HCMC Television (Photo: SGGP)