HCMC has had enough solutions and policies to develop the city's tourism industry but it is short of determination, enthusiasm and connectivity from agencies citywide, said HCMC Party Chief Dinh La Thang on January 10.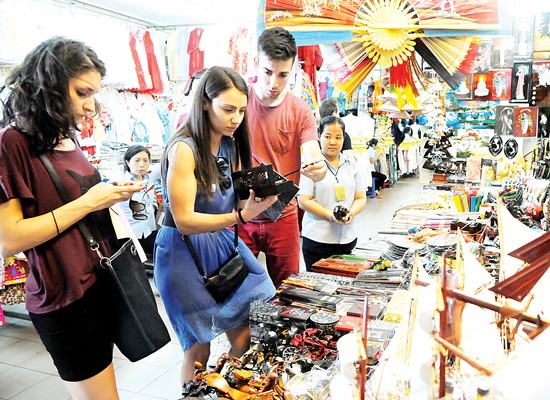 Foreign visitors do shopping at Ben Thanh Market, District 1, HCMC (Photo: SGGP)
At a meeting with HCMC Department of Tourism, Mr.Thang affirmed that tourism is a key economic sector with revenues accounting for 10 percent of HCMC Gross Regional Domestic Product (GRDP).
Tourist development requires multi field connectivity including infrastructure, public order, health and culture and a 'commander' to gather agencies' attendance. First is to determine the position of city tourism sector in the world and neighboring nations, he added.
Director of the Department of Tourism Bui Ta Hoang Vu reported that HCMC now has 1,150 travel companies including 150 international firms. Last year, the city received 5.19 million international visitors, up 13 percent over 2015, and 21 million domestic visitors out of the total number of 60 million.
Many new tourist services have been opened such as waterway travel to Can Gio district and eco tourist tours in new rural areas. The industry strives to obtain 5.8 million international visitors this year.
On the other hand, the director admitted a weakness of having no plan for the tourism industry. Despite being the center of the southern region, HCMC has yet to connect with provinces and other cities in tourism.
City coordination with central agencies has been complicated causing feeble administrative reform in the tourism industry. For instance, it takes several months to assess hotel rating now. Other limitations include short and weak human resource and asynchronous infrastructures including traffic and IT.
City party secretary Dinh La Thang said that if priority level for the tourism industry was not high, it would be impossible to demand quick development. So he asked the tourism agency to put forward which priorities for the field to move up in 2017.
In response, Mr. Vu said thing which could be done now was waterway travel. However it had faced difficulties in water quality with some canals being smelly during low tide. The city had been unable to apply sanctions on some citizens for fishing in cleaned up canals, the throw of fishing lines might affect the safety of tourists.
Moreover the city has no quay plan so it has been difficult for the city to attract investors to waterway tourism, he added.
Being questioned about the quay planning, leader of the Department of Transport said that the agency was getting opinions from relevant agencies.
Whenever being asked, the Transport Department has answered that it is working to develop infrastructures but why the agency has worked too slowly. With that way of doing, how the city could have infrastructure to develop tourism, Mr. Thang queried.
Secretary Dinh La Thang stated that companies have provided their own tourist products without collaboration so they have yet to create strength.
He required agencies to analyze and estimate strengths and weakness of the city's tourism industry compared to the world and Asian nations. They should change their thought and awareness of tourism development, mobilize the entire society and all agencies to join hands.
Tourism is a 'no fume' industry contributing largely to the city's economic growth. So its development is the affair of not only the tourism industry but also all agencies and the entire society via regional connectivity, he says.
The city's tourism does need a real 'bandmaster' or 'commander' because the field is economic-service synthetics needing regional and inter agency links, he stated.

Mr. Thang proposed deputy chairman of the city People's Committee Tran Vinh Tuyen to keep the role of 'commander-in-chief' to link up and speed up agencies to develop tourism.
According to Mr. Tuyen, next year HCMC will promote new original tourist products such as enjoying fresh and clean fish in Can Gio district, eco waterway travel and possible free buses for visitors.
Besides, the city will organize international marathons, street art festivals, weekend lion dances, light and firework art festivals. Furthermore, it will boost tourism in new rural areas to provide more jobs for locals and supply visitors with cuisine and cultural products.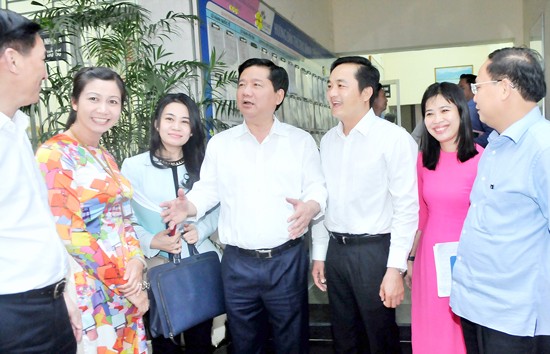 HCMC party chief Dinh La Thang (C) talks to delegates at the meeting hosted to discuss tourist development in the city on January 10 (Photo: SGGP)
Director of the Department of Industry and Trade Pham Thanh Kien said that toilet building for tourists has been a long urgent need. Many solutions have been anticipated such as mobilizing hotels to let tourists use their restrooms and building more public toilets. However they all have proved infeasible.
Deputy permanent secretary of the city Party Committee Tat Thanh Cang expressed an initiative that administrative organs will provide a certain area in the premises of their headquarters for building restrooms. Another measure is to ask banks to build toilets while installing ATM posts.
Tourist prices in Thailand have been low because there is synchronous coordination among restaurants, hotels, airlines and tourist destinations. Meanwhile Vietnamese travel firms have yet to work together, he commented.
He suggested broadening new tourist types covering health check and treatment, shopping and study; and connecting the tourist agency with the system of hotels, buses, airlines and tourist destinations to provide visitors all services they need at the same place.
Mr. Cang prompted relevant sides build Safari park in Cu Chi and facilities at Ben Duoc tunnels such as accommodations for visitors, open routes to Monkey Island in Can Gio district in combination with visiting Sac forest.
The city People's Committee should send to the Standing Party Committee reports in writing on the progress of tourist development works quarterly and monthly, he suggested.