The criteria for a cultural lifestyle for Ho Chi Minh City residents should include studying and following Ho Chi Minh's moral example, the city Party Committee Secretary, Le Thanh Hai, has said.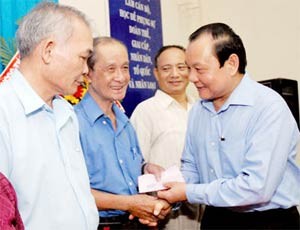 HCMC Party leader Le Thanh Hai gives gifts to some residents in District 5 (Photo: SGGP)
Speaking at a Festival of Great National Unity held in District 5 on November 15, he praised local residents for their efforts to support needy families and students in the last four years.
Mr. Hai offered gifts to some families in Ward 9's Quarter 5.
Local authorities told him there are no poor families in the area and the quarter has been successful in eliminating social evils.
The people support each other in their efforts to become prosperous and their spirit of great unity has helped improve the quarter's social and cultural situation, the report said.
Mr. Hai advised the residents to remain united and follow Ho Chi Minh's moral example.
In building unity, local authorities should put forward good examples for the people to emulate, he said.
The same day also saw the city's Party Committee standing deputy secretary, Nguyen Van Dua, attend the Festival of Great National Unity in Go Vap District's Ward 1.