Ho Chi Minh City Party Secretary Le Thanh Hai led a delegation of leaders from the People's Council, the People's Committee and the Fatherland Front to visit poor households in Cu Chi District, HCMC City and the Linh Xuan Centre for disadvantaged children in Thu Duc District, to offer Tet greetings and gifts on Jan 12.
Secretary Hai visited the family of Nguyen Thi Nhung in Hoa Phu Commune of Cu Chi District who has 5 children, 3 of whom are victims of Agent Orange. He praised the family for their resilience and urged local authorities to provide maximum support to the family.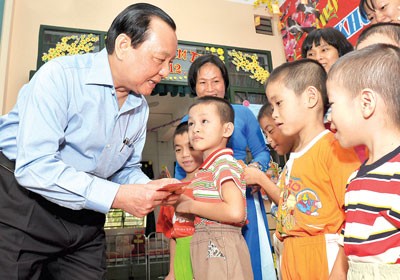 Secretary Le Thanh Hai Hai offers Tet gifts to the orphans at the Linh Xuan Centre
Nguyen Thi Du, an aged female worker, expressed her gratitude in tears upon receiving the Tet gift from the Party Secretary. She is feeding 3 grand children and badly needs assistance. Thanks to the gifts and care offered by local authorities, her poor family will have an adequate Tet, she said.
Under a program themed "Do not let any poor household miss out on Tet", the City's Party Secretary also presented Tet gifts to poor families who stay in remote areas of the district.
At the Linh Xuan Centre for disadvantaged children in Thu Duc District, Secretary Hai offered Tet gifts to the 238 orphans and young children, some of them infected with HIV. He said that HCMC had made plans to organize Tet entertainment activities to ensure that Tet festivities are enjoyed by every family and every individual in the City.
He said bonuses had been considered for the most outstanding cadre and employees who had contributed towards educating and bringing up these disadvantaged children.
On the same day, his delegation also visited and sent Tet greetings to leaders of the naval command post, the security Department of the Ministry of Public security and the People's Hospital 115.
HCMC is stepping up efforts to bring joy to poor students ahead of Lunar New Year, which starts in about 10 days.
Local authorities, various agencies and organizations in Ho Chi Minh City have laid out several programs to ensure that the poor, needy and the disadvantaged people of the city are able to enjoy and join in the festivities during the coming Tet Lunar New Year.
On January 12, a delegation from SGGP newspaper visited Phuoc Loc Commune in Nha Be District in HCMC to offer 200 Tet gifts, each worth VND200,000, to disadvantaged households.
The delegation visited disadvantaged households who are beneficiaries of the State preferential policy. The amount was not big but it will help buy new clothes for the children and some food and wine to worship ancestors during Tet.