While people and enterprises have joined hands with the Government to curb inflation, stabilize the macro-economy and ensure social welfare by practicing thrift and keeping prices stable, banks are inconveniencing enterprises with high lending interest rates.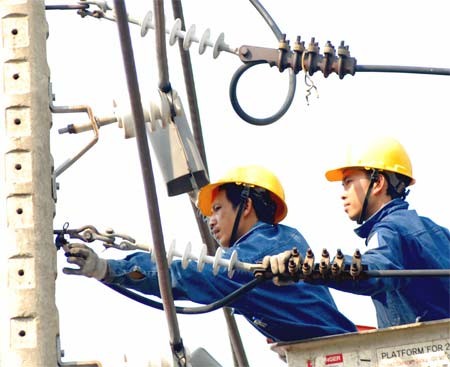 Workers of the Ho Chi Minh City Power Corporation replacing old electric wires to improve power efficiency (Photo: SGGP)
Participants at a meeting on April 21 in Ho Chi Minh City agreed with the above viewpoint. The meeting was held to review two months of the city's implementation of the Government resolution to curb inflation.
 
Social consensus
 
Participants said that a thrift movement was spreading amongst the people, which is slowly becoming into a culture for thrift.
 
Thai Van Re, head of the city's Planning and Investment Department, said that last month only a few property owners had pledged not to raise rents. However, now the figure has gone up to 54,000 property owners.
 
This pledge will greatly support over one million poor workers and students who can continue to maintain their present house rent, he added.
 
Currently, the city has 67,000 boarding houses with 1.2 million tenants. If rent is hiked by VND50,000 per month, the tenancy rate increase will total to an astounding VND500 billion per month.
 
Le Hoang Quan, Chairman of the HCMC People's Committee, said if each property owner contributes by restraining rent hikes, they would be doing a great service to society.
 
Private kindergartens have also been encouraged to keep school fees unchanged.
 
Le Xuan Duong, deputy head of the HCMC Taxation Department, said those property owners and kindergartens that have pledged not to hike rents and school fees will be considered for tax reduction benefits.
 
Enterprises have been asked to raise wages and subsidize housing and transport costs for their workers.
 
As many as 200,000 households have registered to save 10 percent of power consumption during the dry season.
 
The city has encouraged its residents and enterprises to save 10 percent of power consumption and reduce 50 percent in road and advertisement lighting during peak hours.   
 
Thanks to this movement, the city is estimated to save 100 million kWh of power in the first four months of this year.
 
Bank high interest rates      
 
At the meeting, the head of State Bank of Vietnam branch in Ho Chi Minh City reported that while checking six banks, he had found that none offered deposit interest rates higher than the capped rate of 14 percent as regulated by the central bank.
 
Huynh Van Minh, Chairman of the HCMC Enterprises Association, disagreed with this report, saying that lending interest rates are currently very high and over 20 percent per year.
 
Nguyen Van Lai, director of the HCMC Industry and Trade Department, said many banks have offered the savings rate at 17 percent per year, so it is true to say that the lending interest rate exceeded 20 percent per annum.
 
Nguyen Thi Hong, the city's vice chairperson, said banks offering a savings rate of 14 percent should also be checked for lending rates. If their lending rates are too high, it means that they are earning huge profits.
 
She said the banks' total credit balance by mid-April was VND464trillion, a rise of 4.38 percent since early this year. She asked banks to report if the increased credits were going to the production sector.
 
Mr. Minh said the city administration should subsidize loan interest rates to enterprises to help them in production development.