At the third meeting of the seventh session of the HCM city People's Council on December 6, deputies discussed highly volatile topics such as corrupt staff in state offices, fake goods, management of toxic chemicals, and countermeasures to help enterprises from closing down.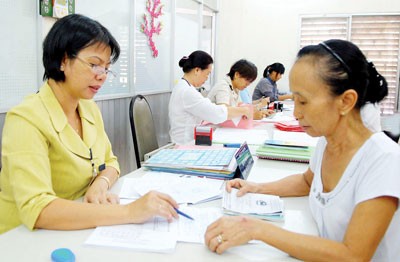 A staff of the People's Committee in Nguyen Cu Trinh Ward guides a resident to complete paper formalities (Photo: SGGP)
Replying to questions raised on the support provided to enterprises to tackle the problem of large inventories, especially in real estate, Nguyen Van Danh, deputy director of the Department of Construction, said unsold inventories of 26 real estate firms amount to VND36.7 trillion (US$1.76 billion).
Such a large inventory in the real estate sector will slow down the cement, iron, steel, building material and furniture industries as well.
Danh said the real estate sector is facing many obstacles that include tight fiscal and monetary policies and lack of a vibrant development strategy.
The solution would be to convert commercial housing to social housing. For the short term, the City is helping enterprises in this sector by relaxing deadlines for land lease fees and taxes and offering support for resettlement.
As to the question on whether the City Department of Home Affairs was holding accountable the malpractices and behaviour of staff and preventing them from harassing residents, Le Hoai Trung, the deputy director of home affairs, said the government has spent a large amount on training and raising professional ethics among the staff, but some of them are irresponsible and even harass residents on simple paper formalities.
His department will however conduct unscheduled checks in agencies and offices so as to nab the culprits.
Participants were most concerned on the spate of street robberies and crimes that seem to have increased of late. Le Minh Tri, vice chairman of the City People's Committee, said police have reduced crime by 7.16 percent and uncovered hundreds of criminal cases.
Tri promised to crack down on crime and reduce related activities to 20 percent and free most localities from petty robbers, thieves and drug addicts. Anti-crime police will strengthen patrols and set traps to nab culprits; police in wards will tighten control in residential quarters; and administrative management police will strengthen inspections at hotels, rented houses and recreational facilities.
Furthermore, all forces including traffic police, mobile police, young people, guards and construction inspectors in every district will also join hands in catching these criminals, Tri said.
Major General Phan Anh Minh, deputy director of the City Police, said to encourage people who help nab robbers and criminals a reward of VND5 million will be given. Police are planning to appeal for contributions from enterprises to support their cause and make the City safe and crime free.
More than VND107 trillion ($5.1 billion) will be spent on collecting, sorting and treating solid waste in Hanoi to reduce environmental pollution and make Vietnam's capital a greener city.
This is the main core of a decree issued by Hanoi People's Council on December 12. The capital city is determined to become a greener and cleaner city by 2030. The amount allocated for the project will be from the state budget, official development assistance fund and build-operate-transfer loan.
Under this new plan, domestic solid waste will be collected, recycled and converted to organic fertilizer or burnt and dumped into landfills in three suburban zones. Waste will be treated in 16 areas spread across the City. The City will also build 29 dumping sites for construction and mud debris.
Around 5,000 tons of solid waste is discharged everyday in Hanoi. There are three solid waste incinerators in the City with capacity to treat 120 kilos an hour.
Related articles:
City needs technology for socio economic growth
Breakthrough needed for economic growth: deputy