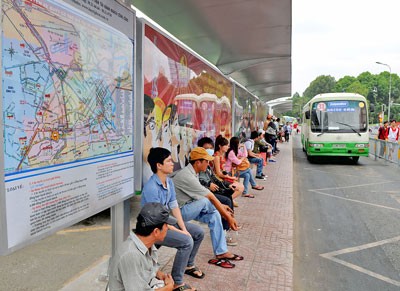 The file photo shows commuters waiting for buses at a bus station in Ho Chi Minh City. (Photo: SGGP)
Ho Chi Minh City plans to maintain an efficient fleet of buses as the major means of public transport by 2020, according to a proposal for a master plan by the Department of Transport.
Under the master plan, an efficient network of buses will ply across the city as a convenient method of public transport and also reduce traffic gridlock.
The plan calls for more use of public buses; an increase in frequency of bus services; use of electronic ticketing on buses and railways; and an efficient underground metro system.
 
Although the city is building a modern metro service, it still will require an efficient public bus transport network.
 
Ho Chi Minh City is planning to reserve land for the construction of bus stations and free parking lots for two-wheelers, to convenience commuters.
 
The current population of 10 million in HCMC is being serviced by nearly 3,000 buses, and the city plans to make buses the major means of public transport in the future, so as to help ease constant traffic congestions, especially during peak hours.