The City has studied the feasibility of building the first Bus Rapid Transit (BRT) route and plans to make it operational by 2017, said Duong Hong Thanh, Deputy Director of the City Department of Transport.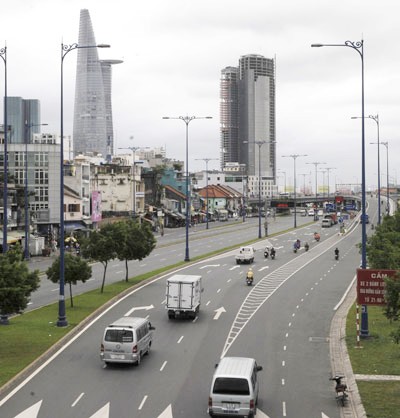 The first BRT route in HCMC is expected to be ready by 2017 (Photo: SGGP)
In a recent interview with Saigon Giai Phong Newspaper on the City's transport development plan until 2020, Mr. Thanh said that the first BRT route will start from Mien Tay Bus Station and run along Vo Van Kiet Highway to connect with the terminal of Metro Route No.1 in Cat Lai Ward in District 2.
The City is trying to complete all related surveys and procedures to seek for World Bank loan and start construction of the project by 2015.
If all goes as per schedule, the first BRT route in HCMC will come into full operation by 2017.
The South Korean Government has assisted HCMC to study eight BRT routes, which Korean experts believe viable for their economic feasibility.
They propose the City launch a pilot program to first build the 16.3km seventh route, which will start from Ben Thanh Market in District 1 and end at An Suong Bus Station.
The City appreciates the advice of South Korean experts and will consider their proposal in the development of the BRT network.
Related organs will step up investment in BRT after assessing all possible routes and arranging investment capital.
Mr. Thanh said that because the road area in the City is limited, the Department of Transport is expected to let BRT buses travel on the same lane as other vehicles.
They will organize a different lane for BRT buses on broader roads. There will be a priority lane for BRT buses on smaller roads where the volume of vehicles is not high. When a BRT bus shows up, other vehicles will have to give way.
BRT buses will have to ply together with other vehicles on smaller streets with higher volume of vehicles.
HCMC will use BRT buses with only one to two coaches to suit the traffic in the City.