Ho Chi Minh City authorities have pledged to create more conducive and favourable conditions for investors to develop their businesses in the city.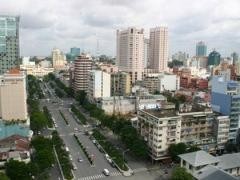 File photo shows a view of Ho Chi Minh City.
Nguyen Trung Tin, Vice Chairman of the HCM City Peoples' Committee made this statement at a seminar on evaluation and improvement of HCMC's investment environment, held in the city on April 26.
At the seminar, representatives of many companies pointed out the weak links in the city management that held back outside investments and proposed measures to improve the investment environment in the future.
Some representatives even complained about the cumbersome administrative procedures and the lack of human resources, which are obstacles for foreign businesses that want to invest and flourish in the city.
Vice-chairman Nguyen Trung Tin made a note of all the participants' viewpoints and asked relevant departments and agencies to gear up performance and help create favourable conditions for investors coming to the city in the future.