City Party Committee, People's Committee and the City Police department have asked police district units cross Ho Chi Minh City to crack down on criminals and undesirable activities to ensure safety and public order ahead of the coming Tet Lunar New Year.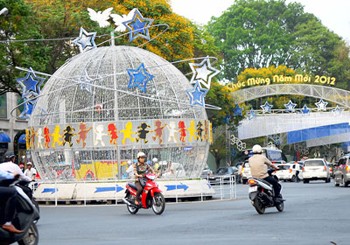 City police are working hard to ensure safety and public order ahead of Tet holiday season (Photo: SGGP)
Accordingly, the city police have mobilized all available human resources to patrol residential and commercial areas and report any signs of dubious activities and take action against any criminal offense cases. From now until Tet, no police official will be allowed to go on leave.
Tran Duc Dai, head of District 1 police department, said that several cultural activities and festivities will take place in the city downtown area during Tet, like a book fair, spring flower festival and fireworks display, attracting millions of residents and foreign tourists.
To ensure security during this phase, police in related districts will not just crack down on thugs and criminals but will also keep a watchful eye on petty thieves who could harass residents and foreigners in crowded areas, Tai said.
All the different police departments like the traffic police, mobile police, department of criminal investigation for social order, anti-drug department and other district police units will jointly co-ordinate to minimize crime in the city during the festival season.
District 1 Police have also proposed to district authorities to instruct civil defense forces, departments and organizations to join in this campaign.
In addition, the fire fighting and prevention departments in districts will focus on creating awareness on fire hazards in residential and commercial areas.
 
Since early December, District 12 has inspected fire fighting and prevention in organizations, businesses, commercial centers, markets, buildings and other crowded areas, especially in petrol stations, gas shops and production units with inflammable materials.
More than that, District 4 has called on traders not to burn incense and votive offerings at their stalls in markets or trade inflammable items. Police officials will also guide residents to use electric and gas appliances safely and equip their homes with portable fire extinguishers. 
Le Quoc Bao, head of the Fire Fighting and Prevention Division in District 2, said that they had proposed to the district People's Committee to set up two teams of inspectors to monitor residential areas, commercial centers, markets and industrial zones.