Despite the global economic turmoil, HCM City has managed to achieve economic growth of 4 percent in the first quarter as a result of the efforts of the Party, businesses, and people, city leader Le Hoang Quan said.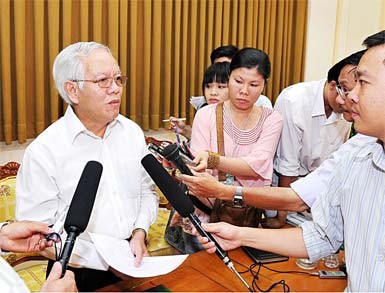 HCMC People's Committee chairman Le Hoang Quan speaks to local media about the city's socioeconomic performance in the first quarter (Photo: SGGP)
The People's Committee chairman, speaking at a recent meeting to review the January-March performances and spell out the tasks for the next quarter, said the city's first quarter GDP is estimated at VND58.47 trillion (US$3.34 billion).
Industry and construction expanded by 10.5 percent, agriculture grew by 4.9 percent, and services were up 11.5 percent over the same period last year.
"Although the performances fell below our expectations, they are owed to the great efforts put in by the city's authorities, businesses, and people," he said.
The city has adopted new policies to stimulate investment and demand, maintain social security, and tackle problems facing small and medium-sized enterprises, officials reported.
Tax revenues were down year on year but the city still increased spending for major social needs.
The prices of food and many other items like steel, iron, oil, petrol, plastics, paper, fabric and fiber remained stable, the Department of Industry and Trade said.
Overall industrial production rose 2.2 percent year on year, with the highest growth seen in the non-State sectors and in such items as footwear-leather, textile and garment, and food processing.
Tourism revenues are estimated at VND3.71 trillion ($212.4 million), up 9 percent from a year earlier, though international arrivals declined 9-10 percent. Saigon Tourism Corporation said local tourist numbers have risen.
With a series of measures being taken to boost tourism, Saigontourist believes things will improve in the next quarter.
Some experts at the meeting warned that the city economy – as well as the country's – is likely to face more challenges as the global economic recession worsens.
To ensure the economy continues on a growth path, Mr.Quan said, any rise in prices or fees must be carefully considered to avoid burdening people.
The city has approved public spending of VND11 trillion on infrastructure, he said, urging agencies concerned to speed up work on projects like the Cha Va Bridge, Nguyen Van Cu Bridge, Chu Y Bridge, and East-West Highway so that they are completed by the end of this year.
Work on building dormitories for 100,000 students must begin by April, he said.
He ordered agencies overseeing construction and investment to set up two inspection teams to check the progress of public works.