Businesses in Ho Chi Minh City have already finished planning on supply of essential commodities and foodstuffs to meet the demand during the coming Tet festive season, three months ahead of Tet Lunar New Year.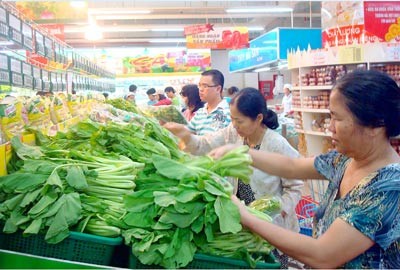 Consumers buy vegetables at Coopmart in District 11. (Photo: SGGP)
Since early August, City leaders had instructed the Department of Industry and Trade and other relevant departments to make plans and prepare goods in order to ensure plentiful supply and stable prices during Tet for nine product groups in the price subsidized program, including cattle meat, poultry meat, poultry eggs, vegetables and fruits, processed foods, rice, sugar, cooking oil, and seafood.
Until now, businesses have purchased and stockpiled material and prepared seedlings, breeding stocks, to carry out production plans to provide goods for the markets during the festive season.
Businesses have pledged to supply enough goods and products, such as pork, poultry meat, poultry eggs, vegetables and fruits, in sufficient quantities during Tet holiday season.
Besides products under the price subsidized program, the Department of Industry and Trade is also encouraging businesses to stockpile other essential products, such as wine, beer, soft drinks, cookies, and sweetmeats, so as to meet a diverse demand of consumers.
Le Ngoc Dao, Deputy Director of the Department of Industry and Trade, said they have instructed businesses under the program to stock goods to help distributors maintain a stable supply, and prevent shortage which could cause prices to boom.
Accordingly, supermarkets need to coordinate better with businesses under the price subsidized program to make sure that their products are widely available to consumers.
In order to ensure better distribution and circulation of goods, the department will collaborate with other relevant departments and districts to increase inspections on price fixing, quality, packing, food safety, dubious and counterfeit products at supermarkets and shopping malls. In case of violations, inspectors will immediately slap strict penalties instead of issuing a warning.