Candidates for new-term Party committees must be persons "whose deeds match their words," who possess a venturesome spirit, and are highly responsible, Nguyen Thi Thu Ha, head of the Ho Chi Minh Party Committee's Personnel and Organization Commission, has said.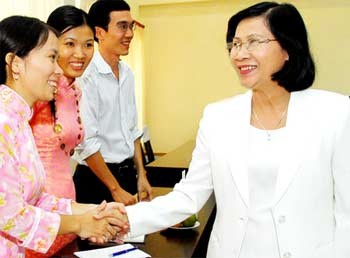 Head of the HCMC Party Committee's Personnel and Organization Commission, Nguyen Thi Thu Ha, meets with city teachers. Ms. Ha has called on all Party units to be democratic and objective in assembling personnel for the new 2010-2015 term. (Photo: SGGP)
Speaking recently to SGGP about assembling personnel for the city's Party Committees at all levels for the 2010-2015 term, Ms. Ha said selecting personnel should be based on democratic expansion, intellectual promotion, improving responsibility, and enhancing solidarity.
Such work must be carried out based on personnel planning criteria and the appraisal of individual qualifications, and only the most qualified cadres should be selected. In particular, special attention should be paid to selecting young and female cadres.
All Party units must set forth standards required for each position in their units and those standards will serve as a basis for the appraisal of cadres, said Ms. Ha.
Evaluations must be carried out comprehensively, objectively, and impartially, and in accordance with the Party's regulations, she added.
Actual working efficiency must be considered the basis for evaluating personnel and feedback about cadres should be collected at both their residences and work sites, said Ms. Ha.
All cadres must be appraised in terms of political qualification, working ability, morality, lifestyle, ambitions, and development potential.
She emphasized that "candidates must be persons who hold prestigious positions within their Party unit as well as in society; who are approachable; who can handle new and complicated issues proficiently; and who are honest and trustworthy."
Regarding a pilot plan for 69 grassroots-level Party Committees to directly elect their secretary at their upcoming congress, Ms. Ha said that because it is a new issue, careful preparations are needed to make it a success.
The direct election principles and process must be in accordance with the city Party Committee's policies, and candidates for the position of secretary must be those who are most qualified in terms of professional skills, working capability, and prestige, she said.
The titles and standards for each title must be clearly introduced to all voters before the election, she added. 
Ms. Ha asked all selected Party units to conduct the election through democratic and objective processes.
As planned, the congresses of all Party units under the city Party Committee will start from April 15 and end in May.