The Ho Chi Minh City Youth Culture House begun a cultural exchange titled "The gioi trong tam tay (The world within reach) 2009" with support from various consulates in the city.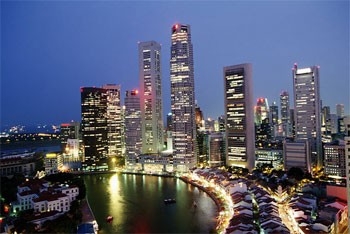 Photos like this one featuring Singapore's skyline at night will be on display at the  exchange program
The program's first show, "Doc dao Singapore" (A glance at Uniquely Singapore), begins on August 12.  
The five-day event will feature a photo exhibition on the landscapes, culture, and people of Singapore, and a postcard collection "Sai Gon - Singapore dau the ky 20" (Saigon – Singapore in the early 20th century) by Soh Weng Yew. 
There will be a talk show on the island's culture, tourism and people, a conference on the similarities between the histories of HCMC and Singapore, a quiz titled "Singapore Discovery," a Singaporean music contest, and a show featuring that country's eclectic cuisines.  
The program aims to strengthen relations with countries in the region and enable Vietnamese students to learn about the cultures of different countries.
Admission is free.