Several measures have been proposed by the Ho Chi Minh City Real Estate Association to help businesses overcome the ongoing real estate crisis, but so far they have been ineffective.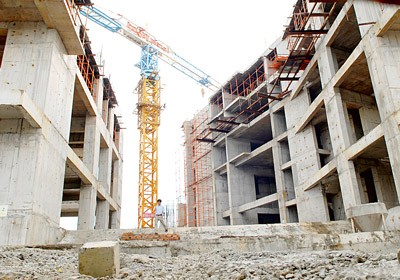 Project construction site of Happy Plaza in HCMC (Photo: SGGP)
The Ho Chi Minh City Real Estate Association in the first quarter this year organised at least two official meetings for discussing ways to resolve the present crisis in the real estate market.
In March, it sent a proposal to the Department of Construction to establish a rescue team, which will work with districts and relevant departments to help the real estate businesses.
Several stronger measures have also been proposed, like reducing bank interest rates and providing consumers with preferential loans for purchase of their first apartments.
The Ministry of Construction has also put forward solutions like buying unsold apartments for resettlement projects and establishing a construction bank.
However, difficulties still encircle companies with high interest rates and thousands of unsold apartments.
Dr. Tran Kim Chung from the Central Institute for Economic Management said that the real estate market should not rely on capital from banks but seek other sources.
Nguyen Tran Nam, Deputy Minister of Construction said that the ministry is working on a draft project to establish a house savings bank, aimed at mobilising long term funds for housing development projects.
The National Financial Supervisory Commission on Wednesday will meet with the association on measures to recover and develop the real estate market.
According to the HCMC Department of Construction and Planning and Investment, the city has about 20,000 real estate businesses.
Of these, 2.6 per cent have a capital scale of VND200-500 billion, eight per cent of VND50-200 billion,19 per cent of VND10-50 billion and 70 per cent of small scale of less than VND10 billion.