Recently, the streets of Ho Chi Minh City have seen the introduction of models of various models of electric bikes, some of which can travel as fast as a motorbike. As a result, the number of accidents involving electric bikes is reported to have increasing. What are the relevant city authorities doing to cope with such a situation?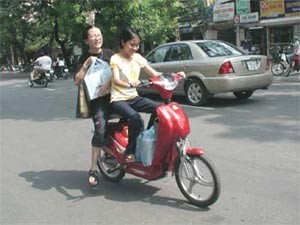 More city dwellers enjoy travelling by eletric bikes as they are not forced to wear crash helmets when driving (Photo: VN Express)

As petroleum prices climb up, more and more city dwellers have decided to travel by electric bikes, to cut down gasoline cost. To attract consumers, the manufacturers of electric bikes have developed new, enhanced technology models that are capable of higher speeds.
The manufacturers market this as it makes their products more fashionable. In fact, some of them are similar to the Japanese four-stroke engine scooters in the latest models.

The majority of the electric bike drivers are school children, as more and more parents buy electric bikes for their kids to drive to school. Parents have the idea that electric bikes are safe for their kids as they do not have a motor. Laws regarding helmet use with bicycles enforce this misconception as laws to force drivers of this kind of vehicle to wear crash helmets do not exist.

A high school student in District 5 commented, "More than half of students in my class drive electric bikes to school every day. We really love electric bikes. They are not only easy to control, but can also run pretty fast in the city. Above all, we are not required to have a driving license or wear crash helmets. Driving an electric bikes is safe for us, isn't it?"

Yet, whether or not electric bikes are a safe means of transport has recently become a growing, public concern due to the increasing number of traffic accidents that has resulted in severe injuries to drivers.

One traffic policeman revealed that after school hours, many teenage students drive their electric bikes in three or four lines on the street racing against each other to see whose bike is the fastest. This type of activity poses many risks and he went on to outline another example where an electric bike driver caused a traffic accident and ran away after to avoid trouble.
In such a case, it is really hard to locate the driver as no electric bike has a number plate. He pointed out that there is no applicable rule to force the owner of an electric bike to register his bike before driving it on the street.

At the meeting to assess the results of the city's measures against traffic congestion and accidents during quarter 1, Doctor Pham Thi Quynh Ai of Cho Ray Hospital warned about the alarming number of electric bike drivers suffering from head injuries in traffic accidents.

Senior Lieutenant–Colonel Pham Van Thinh, Head of the Road Traffic Police Section of the HCMC Police, blamed most of the accidents on electric bike drivers' violations of traffic laws by pointing out that many electric bike drivers tend to race with motorcyclists when driving in the city. He added that current fines and penalties imposed on traffic violators driving electric bikes are not strict enough to deter them.

Mr. Le Hoang Quan, Chairman of the People's Committee and Head of the City Traffic Safety Committee, promised that the Traffic Safety Committee will ask the government to issue regulations on electric bike management which requires electric bike drivers to register their bikes before driving them on the streets and to wear crash helmets when driving.

While awaiting the Government's decision on new regulations for electric bike management, the traffic police should regularly conduct programs that raise electric bike drivers' awareness of the importance of respecting the traffic laws and of wearing crash helmets to protect themselves and others' lives, added Mr. Quan.