Though Ho Chi Minh City has implemented several anti-flood projects, heavy downpours over the past few days have caused more traffic jams than usual and vehicle engines have stalled in waterlogged streets.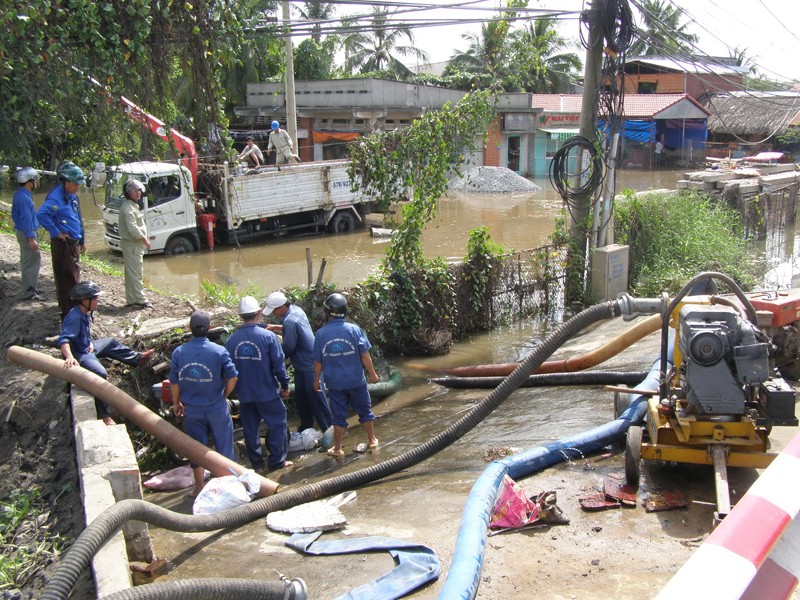 Municipal workers pump water out of the flooded Duc Nho bridge area in Thu Duc District. (Photo:SGGP)
In August, the Bau Cat area, Bay Hien intersection, Tan Binh District and several roads in District 1, 5, 6 and Binh Tan District have been areas prone to flooding.
The areas are being flooded despite the completion of road works and installation of drainage systems, say residents in districts 5 and 6.
According to city's flood prevention and management authorities, the rainy season this year could bring much heavier downpours that last year, causing worse flooding problems in the last months of the year. It estimates that at least 50 flooding-prone sites have had no effective measures taken thus far to reduce the hardship caused to residents in the areas.
One of the main reasons is that several canals are blocked by household rubbish as well as rubble dumped by construction sites. The old drainage system is always overloaded when it rains, and there is no outlet for the water, causing streets to flood.
What is particularly worrying, many residents say, is that despite the city finishing work on the major drainage and environmental protection project on Nguyen Thi Nho, Le Quang Sung and Pham Dinh Ho streets, the flooding situation has not improved.
Nguyen Ngoc Cong, deputy director of the city's anti-flood agency, said drainage projects carried out by different contractors are being implemented at around 200 sites in the city, affecting water flow.
 
Also, of the 7,500 kilometres of spillway dams that the city needs to develop and/or upgrade, just 1,500 kilometres have been completed so far.
Cong said the city needs to take several steps in tandem to address the flooding problem, including the dredging of canals and stricter monitoring of construction sites. Work on the major infrastructure project to install new drainage systems in the city have to be expedited, he added.