Although no acute diarrhea or cholera cases have been reported in Ho Chi Minh City, administrators are on the lookout. The city's Department of Health asked its district administrators to tighten surveillance because the city is an international commercial hub and tourism venue. The disease is spreading, so caution and proactive measures are necessary.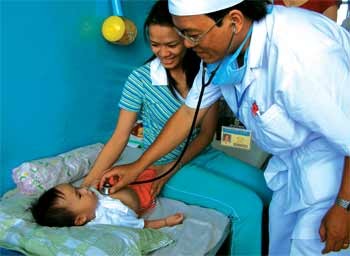 Tropical hospital's doctor is examining an infant patients with diarrhea
Although they have not seen any cases of acute diarrhea, they will keep close eye on the situation, hospital leaders told journalists Monday.
The city has seen a slight rise in the number of children with diarrhea, said Dr. Nguyen Van Vinh Chau of Tropical Hospital.
In February, of 277 patients, including 193 infants, were hospitalized, while in March 292 cases were reported.
Doctors suspect that a 40-year-old man from Binh Chanh District who was taken to the hospital on April 6 had cholera, Dr. Chau added. However, his test came back negative.
Doctors of Children Hospital 2 also carried out tests in suspicious cases, but every test came back negative.
The entire machinery of state and the mass media must combine to take drastic actions to fight the pandemic, disseminate specific information, and call for food hygiene and personal sanitation.
Chemicals and drugs must be available at hospitals and transferring patients from hospital to hospital is forbidden. Hospitals must treat the feces of acute diarrhea patients carefully to avoid contaminate water sources.
District officials and medical officials must supervise the food at markets, restaurants and eateries. Harsh penalties must be imposed on violators.
Every acute diarrhea case must be reported to the Department of Health as soon as possible.