In response to the outbreak of bird flu in nearby provinces such as Long An and Tien Giang, the Ho Chi Minh City Health Department yesterday issued a plan to prevent human transmission and requested that all levels of medical personal be ready in case bird flu should reappear in the city.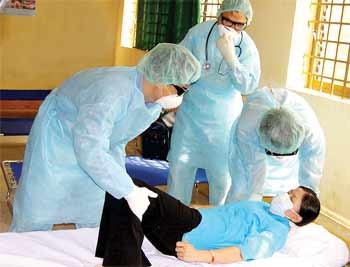 Inspectors are practicing treatment and curing for H5N1 victims
Although no bird flu cases on human have occurred in HCMC for two years, administrators are on the lookout for the disease.

The city is an international commercial hub and tourism venue and influenza has broken out in both Hong Kong and other locations in the region, so caution and proactive measures are necessary.

Bird flu has reoccurred in southern provinces such as Soc Trang and Vinh Long, Dr. Phan Cong Hung from the Community Healthcare Department at Pasteur Institute told reporters on March 17.
In response, local authorities have increased their supervision, he added.
Some residents have been in close contact with infected birds, so the city needs to raise public awareness concerning the disease. Moreover, human flu is threatening the city because tourists from all over the world may transmit their illnesses.

The department has requested that the city's medical administrators take the steps needed to deal with any infection that may arise. Refresher courses will be held for mobile inspection teams.

Preventative medical centers must closely monitor those who have fallen ill and set up quarantine areas to contain the disease as soon as possible. Mobile inspection teams must detect outbreaks, carry out disinfections, and quarantine the infected area.

Quarantine centers in coordination with southern airport authority and border guards, patrols and such nationwide to intensify the medical inspection of travelers who are suffering from flu or fever, particularly those from bird flu affected areas.
Medical workers, especially those at border gates, have been advised to keep a close watch on those patients suspected of having contracted the H5N1 strain of the virus by placing them in quarantine and isolation wards at Tropical Hospital.

Tropical Hospital and Children Hospital 1 and 2 offer refresher courses on treatment and curing skills for H5N1 victims.
Medical infirmaries strengthened their surveillance on the suspects who are kept in quarantine and isolation wards till tests carried out show that they are negative for the H5N1 strain of the virus.
Hospitals are asked to stockpile medicines, necessary chemicals and equipments for prompt fighting actions.
Health Department will send its men to inspect preparation tasks in medical clinics in 24 districts.