All agencies and officials should work to sustain HCMC's economic growth and achieve the targets set for the year, HCMC People's Committee Chairman Le Hoang Quan told a meeting held yesterday to review the first quarter socioeconomic performance.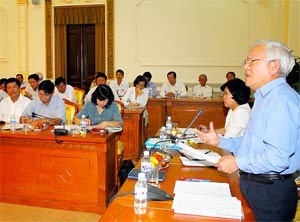 HCMC People's Committee Chairman Le Hoang Quan at the meeting yesterday
In the period the city achieved 11 percent growth, the same as last year, according to the Department of Planning and Investment.

But the head of the Statistics Department, Du Quang Nam, said the growth was not as strong as that of last year's same period.

Entrepreneurs, manufacturers, and exporters are all struggling to cope with the rising prices and the strengthening of the dong.

The Saigon Trading Group told the meeting that due to the relentless rise in raw material prices at home and abroad, many Vietnamese exporters faced financial losses.

Furthermore, banks are reluctant to buy the greenback for fear of a further fall in its value, causing further problems for the exporters.

A recent surge in construction material prices has seen infrastructure projects delayed or even grind to a halt, waiting for instructions from city authorities.

After listening to officials' reports, the city People's Committee listed 17 measures to address existing problems and abet socioeconomic development. These included promoting further global integration and providing better conditions for domestic manufacturers.

The committee also stressed the importance of modernizing the agricultural sector, attracting more foreign investment, and having more effective site clearance plans to develop industrial and export processing zones.

Mr. Quan said more work should also be done in the fight against poverty. Local officials attending the meeting were told to assess the situation of poor households in their areas and provide support to them.

Mr. Quan also called for completing ongoing construction projects in the city. Major projects should be allotted adequate funds to ensure they were completed exactly on schedule, he added.

Investors could choose their own designers for projects, the only proviso being the design must be forward-looking and dovetail with Vietnamese culture, he added.

In a change to the old rule, the People's Committee said investors could pay the builders up to 50 percent of the construction cost as advance to speed up work.