Ho Chi Minh City is fast running out of warehouse space to keep smuggled and other illegal goods seized by the Market Control Sub-Department.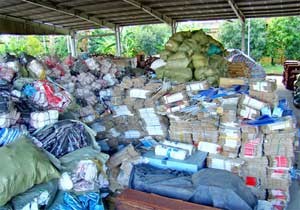 Seized goods piled up at a warehouse belonging to the HCMC Market Control Sub-Department (Photo: SGGP)
Speaking to Sai Gon Giai Phong, the head of the agency, Nguyen The Thong, said this is partly due to the fact that the volume of goods seized this year has doubled from last.
He also blamed it on the tardiness in valuing and auctioning the goods, as a result of which they have been piling up degrading, causing avoidable losses.
He cited the example of a truck and trailer seized three years ago that remain unsold. They had been estimated then at over VND100 million (US$5,600) but have lost a third of the value now, he added.
The 690-square-meter rented warehouse in Tan Phu District has been packed to the rafters for the last two months as a result of which vehicles, containers, and other items have to be stored in the open air, an official in charge of it said.
The agency's other two warehouses and all of the warehouses of its affiliated units in the city's 24 districts face the same problem, he said.
The Market Control Sub-Department said it also lacks enough staff to handle the goods.
It has asked city authorities to speed up procedures to auction confiscated goods -- by switching to sealed-bid instead of open-bid auction and increasing the deposit rate.
It has also called for more support from the city's Department of Finance in evaluating the goods so that they can be auctioned sooner, and asked the city authorities for more warehouse space.