A Syrian ship, Lady Belinda, which hit the Muong Chuoi Bridge in Ho Chi Minh City's District 7 on September 19, sank in the Soai Rap River September 21, releasing tens of thousands tons of iron ore on the river bed.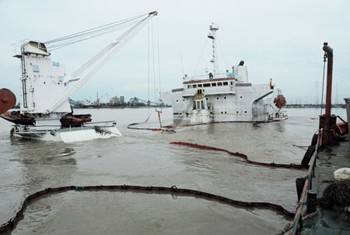 The Syrian ship sinking on Soai Rap River, District 7, HCMC (Photo: SGGP)
Nguyen Hai Nam, deputy head of the city's port authority, said that the Lady Belinda had a capacity of over 20,000 tons and carried 16,500 tons of iron ore at that time.
A representative from the oil spill rescue team of Dai Minh Company said that 3,000 liters of fuel oil were salvaged by September 22.
Motor-boats from the Maritime Safety Company have been alert on the river section where the boat sank, near Hiep Phuoc Port, to guide other boats.
The vessel's hold contains 16,500 tons of iron ore, which has made it hard for the boat to drift further.
Ta Thi Hong Tam, director of HCMC Bridge and Ferry Construction Management Company, on September 22 said that the bridge is currently only open to five-ton vehicles, compared with the previous 18 ton limit before the incident.
The damaged side of the bridge has also been fenced off, he added.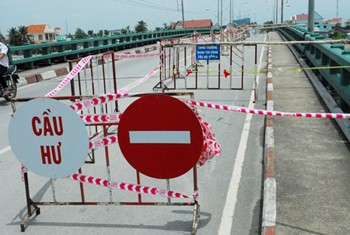 A traffic signal announcing damage on Muong Chuoi Bridge, the last victim of the Lady Belinda (Photo: SGGP)
Lady Belinda had been on Soai Rap River since May last year because its owner was not able to pay some debts. The rope that kept her moored snapped, allowing the boat to drift freely to Nha Rong Port, where it was finally anchored.
A new chain failed again, with the boat striking Binh Khanh Ferry Station. The ferry management board has demanded the ship owner to compensate them VND150 million ($8,000).
The vessel's chains broke two more times causing the boat to hit another vessel, the Hung Vuong, on September 18 and finally striking the Muong Chuoi Bridge on the 19th.
Four rescue ships from the port authority and waterway police had tried their best to prevent the vessel from hitting the bridge, however, the river runs very fast, combined with the large capacity of the vessel, it was difficult to prevent the incident.
Related article:
Ships slams into Muong Chuoi Bridge