The Economic-Budgets Committee under the Ho Chi Minh City People's Council on March 19 discussed with relevant units the construction progress of Saigon-Hiep Phuoc Port, which was put on hold due to capital shortage.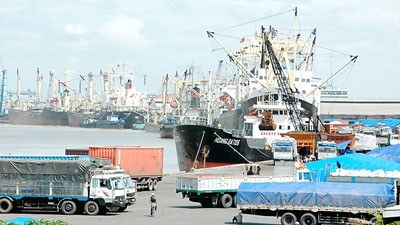 A view of Saigon Port (Photo: SGGP)
Nguyen Hoang Dung, director general of Saigon-Hiep Phuoc Port Company, said that they have already constructed about 38 percent of the port.
However, capital shortage forced them to halt construction while much of the area was unable to be exploited without a link road.
Site clearance has been done for the 2.3km link road including 32 bridges, but Saigon Port authorities are short of VND259 billion (US$12.36 million) to compete this task.
Representatives from the Economic-Budgets Committee said that authorized organs should give more assistance for the completion of Saigon-Hiep Phuoc Port.
Saigon-Hiep Phuoc Port will play a very significant role in the establishment of a complex of other ports in Hiep Phuoc in HCMC.
The lead road to Saigon-Hiep Phuoc Port is a functional necessity that will also enable operational links to several other ports that are projected to be built--in an effort to remove seaports out off inner city limits.