The Steering Committee for Flood Prevention in Ho Chi Minh City invited experts from various different fields to discuss measures to prevent flooding and manage high tides and salt marshes, at a conference in the city on December 16.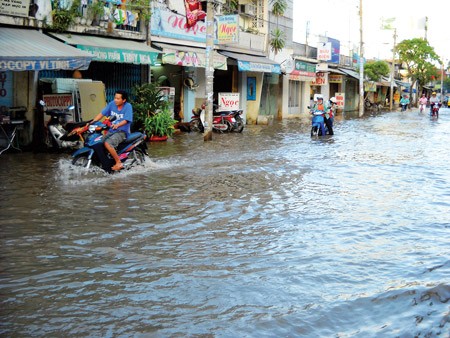 High tide floods Ngo Tat To Street in Binh Thanh District (Photo:SGGP)
Authorities in HCMC had set up the Steering Committee for Flood Prevention in recent years to tackle the constant flood crisis in the city. The department soon realised that they were inadequately equipped to cope with this gigantic problem and hence called for this conference in which opinions from experts was sought.
At the conference, irrigation experts gave many valuable recommendations. They believed that the main cause of flooding was   mainly because of too heavy rainfall and rising high tides.
Earlier, the Ministry of Agriculture and Rural Development had agreed on preventive measures such as building sluice systems to control the high tide at Rach Tra, Vam Thuat and Phu Xuan areas of the city. Dams along the lower reaches of the Dong Nai and Luong Tai Rivers would also prevent tide waters from overflowing. 
The above measures are expected to control flood waters from the Dong Nai and Sai Gon Rivers from flooding the city.
At the conference, many participants expressed a negative impact of the Vung Tau- Go Cong coastal dyke system with concerns if the   project would have an adverse affect on the Long Tau River.
A representative from the Long An Department of Natural Resources and Environment said that implementing projects along the Soai Rap River will affect the province. If projects along the river are passed, seawater intrusion in the province will become more serious while the province is in dire need of freshwater.